Is travel time covered under the FMLA?
Posted August 26, 2016
Paula was up to her eyeballs in Human Resource Information System (HRIS) research, when she heard a knock on her door. "Hello," she called out.
The door slowly opened, and Mark, a long-time employee, poked his head in. "My supervisor sent me to ask about taking time off to take my daughter to treatments, as those treatments are to take place in a neighboring state. I would need time off not only for the treatments, but the travel time to get to those treatments."
Mark went on to add some more details about his situation. When he finished, Paula gave him a Family and Medical Leave Act (FMLA) packet, told him she would look into his question, and would get back to him later that day. Paula figured that the time off for the treatment would likely be protected by the FMLA, but she wanted to check on company policy and past practice, as well as any legal or regulatory information regarding the time off to travel to the treatment.
Unless Paula has an FMLA crystal ball or other magical source of such information, she could be hard pressed to find any related information in the statute, regulations, administrative guidance, or case law. Whether travel in such a situation is protected by the FMLA is simply not directly covered in the current available materials.
For guidance, perhaps one could turn to simple logic. For example, if Mark's travel is required as part of the treatment/care, if his daughter's treatment/care could not be obtained without the travel, it would be logical that the travel would be considered part of the treatment/care and, therefore, protected by the FMLA. If the travel is needed to meet the child's medical, hygienic, or safety needs, it would likely be FMLA leave. In other words, if the travel is directly related to the treatment or care, it could logically be protected.
Compare this to situations in which travel (or other activity) is only indirectly related to care, such as when an employee missed work to clean his mother's basement after a flood, as his mother had hepatitis and the stagnant water was a breeding ground for the disease. In this situation, a court ruled that the time off for the cleaning was not FMLA-protected (Lane v. Pontiac Osteopathic Hospital, U.S. District Court, E.D. Michigan, Southern Division, 09-12634, 6/21/2010).
Therefore, if Mark could not show that the travel was required for the treatment/care, Paula could have a better argument denying the FMLA protections for the time spent traveling. Of course, Paula and her company might not want to be the first to spend time and other resources to have this question answered by the courts.
Perhaps another area of the regulations could be seen as providing some guidance, as FMLA leave for adoption includes traveling to another country to complete the adoption.
For Paula, she will need to make a decision, and can base it on, among other factors, past practices and the risk tolerance of her company.
This article was written by Darlene Clabault of J. J. Keller & Associates, Inc.
---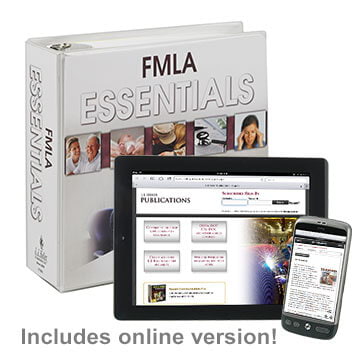 J. J. Keller's FMLA Essentials Manual uses clear, conversational language to help you understand the FMLA (Family and Medical Leave Act) requirements.
---
J. J. Keller's FREE HRClicks™ email newsletter brings quick-read human resources-related news right to your email inbox.