Human resource practitioners optimistic about job security, survey shows
Posted August 2, 2016
Confidence in the human resource (HR) profession has risen, with early-career professionals reporting the most optimism about job security and job prospects, according to the 2016 HR Jobs Pulse Survey released by the Society for Human Resource Management (SHRM).
The survey asked U.S.-based HR professionals about hiring for HR jobs at their organizations and their own job-seeking plans, sense of job security, and confidence in their ability to find new job opportunities.
The survey indicates that 85 percent of early-career HR professionals reported confidence in their job security, compared with 75 percent of all HR professionals who took part in the survey.
"HR professionals that are at the earliest stages of their career were found to be particularly confident in the stability of the profession, which suggests that new entrants to the profession are feeling optimistic about their future as HR practitioners," said Alex Alonso, SHRM senior vice president of knowledge development.
While early-career HR professionals had the least combined degree of concern with job security, they also had less confidence that they could find a new job — 63 percent were somewhat or very confident compared with 88 percent of HR professionals overall — perhaps due to a lack of experience in the profession.
Most HR professionals plan to stay in their current position, the report indicates. About one out of five respondents (19 percent) said they were looking for a new job, either by choice or involuntarily.
Of those who were currently looking or planning to look for a new job, the majority indicated that pay is the key reason for seeking a new position. More than two out of five of those surveyed (42 percent) who said they were looking or planned to look for a new job said "more compensation/pay" was the reason. This was followed by "better career advancement opportunities" (37 percent).
However, fewer than three out of 10 respondents said their organizations were hiring for HR positions. The percentage is unchanged from 2015.
"Overall, HR professionals report that hiring remains somewhat flat for human resource positions compared with a year ago, but confidence in the stability of the profession has increased slightly," said Alonso. "The vast majority of HR professionals (88 percent) had some level of confidence that they could land a new job if necessary."
Among the companies that were hiring for HR positions, the top functions sought in hiring activity were:
HR generalists — 49 percent
Employment/recruitment — 31 percent
Administrative — 15 percent
Benefits — 14 percent
Employee relations — 13 percent
---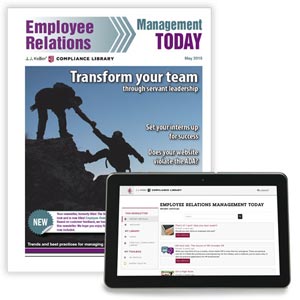 The SUPER adVISOR™ newsletter contains four pages dedicated to the HR manager and a corresponding four-page pullout dedicated to the needs of supervisors.
---
J. J. Keller's FREE HRClicks™ email newsletter brings quick-read human resources-related news right to your email inbox.