Healthcare company will pay $35,000 to resolve disability discrimination lawsuit
Posted August 17, 2016
A North Carolina healthcare company that offers administration services for programs such as long-term care and pharmacy benefits management, has agreed to pay $35,000 and provide substantial injunctive relief to settle a disability lawsuit filed by the U.S. Equal Employment Opportunity Commission (EEOC).
According to the EEOC's lawsuit, the company failed to grant an applicant with a disability a reasonable accommodation which would have allowed her to complete the company's required pre-employment drug screening.
In its complaint, EEOC alleges that a qualified applicant, who is diagnosed with end stage renal disease and receives hemodialysis treatment as a result, received a written employment offer from the company in September 2014. The employment offer was contingent upon successful completion of a pre-employment drug screening. Although the applicant was willing to undergo drug screening, she informed both the company and the lab representative at the drug testing facility that her disability prevented her from providing a urine sample. The complaint alleges the applicant also informed both the company and the lab representative that her dialysis center would perform a different kind of drug test in place of the urine testing. The company denied the request and the applicant was not hired.
The Americans with Disabilities Act (ADA) of 1990 requires employers to make reasonable accommodations to employees, as well as qualified applicants with disabilities.
In addition to providing monetary relief to the applicant, the company agreed to a two-year consent decree requiring it to notify employees and applicants that they are entitled to reasonable accommodations in connection with drug screening, if necessary. The decree also requires the company to annually train certain recruiters and recruiting managers on the requirements of the ADA, specifically, that employers must provide reasonable accommodations to individuals covered by the ADA, including applicants.
---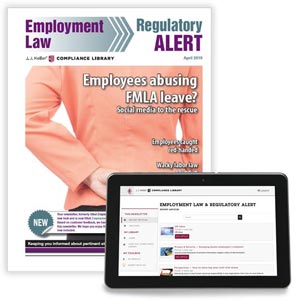 J. J. Keller's Employment Law Today newsletter explains why you need to care, what you need to do and how your business could be affected by HR industry news.
---
J. J. Keller's FREE HRClicks™ email newsletter brings quick-read human resources-related news right to your email inbox.