FMCSA proposes speed limiters for large commercial vehicles
Posted August 26, 2016
The Federal Motor Carrier Safety Administration (FMCSA) has issued a long-awaited proposal to require new heavy-duty vehicles to be equipped with speed limiting devices.
Once finalized, the rule will also require a maximum speed setting for the devices. The proposal discusses the benefits of setting that speed at 60, 65, and 68 miles per hour, but other speeds will be considered based on public input, the FMCSA wrote in an August 26 announcement.
The rule is a joint project with the National Highway Traffic Safety Administration (NHTSA), which sets standards for vehicle manufacturers. Those standards would be amended to require all new U.S. trucks, buses, and multipurpose passenger vehicles with a gross vehicle weight rating of more than 26,000 pounds to be equipped with speed limiting devices set at a maximum speed.
A retrofit requirement for existing trucks is not being proposed at this time, but the agencies are seeking public input on that issue.
As proposed, the rule would give manufacturers a lead time of three years — until September 1, 2020 — to comply. The cost to manufacturers is expected to be minimal because most vehicles already have electronic engine controls that include the ability to limit the vehicle's speed.
"There are significant safety benefits to this proposed rulemaking," said DOT Secretary Anthony Foxx. "In addition to saving lives, the projected fuel and emissions savings make this proposal a win for safety, energy conservation, and our environment."
The FMCSA says the rule could save more than $1 billion in fuel costs annually and have up to $5 billion in overall net benefits, outweighing the annual cost of delayed shipments, estimated at between $209 million and $1.6 billion depending on the speed setting.
The agency also estimates that the rule could save between 27 and 498 lives annually.
"Safe trucking moves our economy and safe bus operations transport our loved ones," said FMCSA Administrator Scott Darling. "This proposal will save lives while ensuring that our nation's fleet of large commercial vehicles operates efficiently."
The agencies say they will consider a variety of factors before deciding on a maximum speed, including state speed limits, economic and environmental factors, and potential harmonization with Canada.
Under the proposal, motor carriers operating commercial vehicles in interstate commerce would be responsible for maintaining the speed limiting devices at or below the designated speed for the service life of the vehicle.
Once the proposal is published in the Federal Register, the public will be invited to submit comments at Federal eRulemaking Portal under docket number FMCSA-2014-0083.
This article was written by Daren Hansen of J. J. Keller & Associates, Inc.
---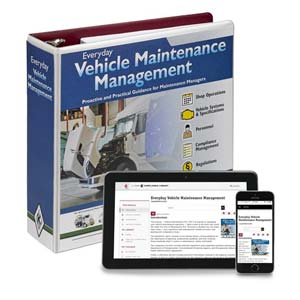 J. J. Keller's Vehicle Maintenance Pro Manual offers practical advice on selecting best vehicles for the job, tracking costs and repairs, developing maintenance standard, and organizing the shop for maximum efficiency.
---
J. J. Keller's FREE Transportation SafetyClicks™ email newsletter brings quick-read safety and compliance news right to your email box.