Oral arguments scheduled for September in respirable crystalline silica case
Posted July 10, 2017
The U.S. Court of Appeals for the D.C. Circuit has scheduled oral arguments for September 26, 2017, for case No. 15-1105, North America's Building Trades Unions v. OSHA and the U.S. Department of Labor.
Industry groups, associations, and unions sued OSHA over its March 25, 2016, final rule titled Occupational Exposure to Respirable Crystalline Silica. The rule created two standards to protect workers from the hazards of breathing in silica dust — one for general industry and maritime, and the other for construction.
OSHA says its earlier standards for silica exposures were outdated, inconsistent, and did not adequately protect workers' health. The final rule set stricter permissible exposure limits (PELs) at 50 micrograms of respirable crystalline silica per cubic meter (µG/M3) of air averaged over an eight-hour day (approximately half of the previous PEL for silica in general industry).
When it issued the rule, OSHA claimed that over 100,000 workers are exposed to silica levels that exceed the new permissible exposure limits (PELs).
However, the industry groups and unions suing OSHA argue that OSHA failed to meet its burden of showing that significant risk of material health impairment existed at the earlier PEL of 100 µG/M3, or that, if such a risk did exist, it would be "substantially reduced" at a PEL of 50 µG/M3. In addition, the petitioners argue that workers do not face a significant risk of silicosis, other non-malignant respiratory disease, or silica-related lung cancers at the original PEL.
The petitioners claim that OSHA improperly rejected evidence of a threshold for silica-related respiratory disease, and that the Agency's projections of silicosis morbidity risks at exposure levels below 100 µG/M3 are "neither credible nor reliable."
Other issues before the court are OSHA's finding of economic feasibility in the foundry and hydraulic fracturing industries and the rule's technological feasibility for construction.
Crystalline silica
Crystalline silica is found in materials such as sand, concrete, stone, and mortar. It is used as an ingredient in glass, pottery, ceramics, bricks, concrete, and artificial stone. It is also an ingredient in industrial sand used in foundry work and hydraulic fracturing.
Inhaling crystalline silica particles has been shown to cause a variety of lung diseases, including silicosis, which is an incurable lung disease that often results in disability and death. Respirable crystalline silica has also been linked to lung cancer, chronic obstructive pulmonary disease, and even kidney disease.
Delayed enforcement
Note that OSHA has delayed enforcing the new standard for construction until September 23, 2017. The standard for general industry and maritime employers won't go into effect until June 23, 2018. However, some states may already be enforcing the new requirements.
---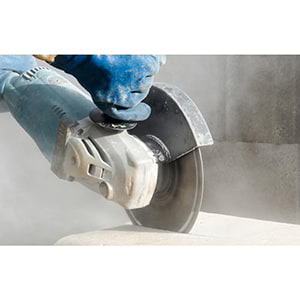 J. J. Keller's Crystalline Silica Online Training addresses critical information workers must be aware of regarding the dangers of respirable crystalline silica.
---
J. J. Keller's FREE Workplace SafetyClicks™ email newsletter brings quick-read workplace safety and compliance news right to your email box.