FMCSA moves forward with study on crash preventability
Posted July 26, 2017
Beginning August 1, 2017, motor carriers with eligible accidents have the opportunity to participate in the Federal Motor Carrier Safety Administration's (FMCSA's) Crash Preventability Demonstration Program. The study is expected to last a minimum of 24 months.
The agency will begin to accept Requests for Data Review (RDRs) through DataQs for eligible crashes. Individuals submitting an RDR should include supporting documents, photos, or videos to support claims.
A crash is eligible for participation in the program if it occurred on or after June 1, 2017, and:
The commercial motor vehicle (CMV) was struck:

By a motorist driving under the influence (or related offense);
By a motorist driving the wrong direction;
In the rear;
While legally stopped or parked, including when the vehicle was unattended;
By an individual committing or attempting to commit suicide by stepping or driving in front of the CMV; or
By cargo or equipment from another vehicle; or

CMV sustained disabling damage after striking an animal in the roadway; or
Crash was a result of an infrastructure failure, falling trees, rocks, or other debris.
The agency currently uses all accidents as defined in Section 390.5 of the Federal Motor Carrier Safety Regulations to arrive at a motor carrier's Crash Indicator BASIC score under its Compliance, Safety, Accountability (CSA) enforcement model. FMCSA believes studies show that crash involvement is a strong indicator of future crash risk, while many stakeholders argue that preventability should be taken into consideration.
As a result, the Crash Preventability Demonstration Program will:
Gather data to examine the feasibility, costs, and benefits of making crash preventability determinations on certain crash types; and
Offer insight into preventability determinations and FMCSA's ability to identify the highest-risk motor carriers.
Learn more on the study and how to participate on the FMCSA website.
---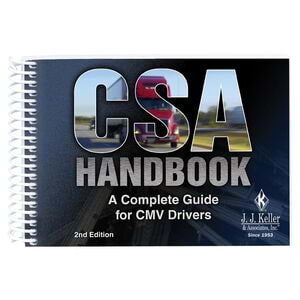 J. J. Keller's CSA Handbook: A Complete Guide for CMV Drivers covers all information CMV interstate truck and bus drivers need to operate successfully under CSA.
---
J. J. Keller's FREE Transportation SafetyClicks™ email newsletter brings quick-read safety and compliance news right to your email box.