Transportation company settles charges of hiring discrimination
Posted July 13, 2016
A division of one of the nation's leading transportation companies has entered into a conciliation agreement with the U.S. Department of Labor's Office of Federal Contract Compliance Programs (OFCCP) to resolve allegations of race-based hiring discrimination.
The company is a federal contractor that, in recent years, has had more than $10 million in contracts with the Federal Highway Administration, U.S. Department of the Navy, U.S. Department of Air Force, and U.S. Fish & Wildlife Services.
One of the company's business units entered into the agreement after OFCCP determined the company failed to provide equal employment opportunities to 2,086 African Americans. During its scheduled compliance evaluation, OFCCP found that — from January 1, 2010, through December 31, 2011 — the company engaged in hiring practices that discriminated against African-American applicants.
The company's actions violated Executive Order 11246, which prohibits federal contractors from discriminating in employment based on race or color in their employment practices.
Under the terms of the agreement, the company, which has not admitted liability, will pay $492,000 in back pay and interest to the African-American applicants. The company also agreed to make job offers to seven of the non-selected applicants.
Additionally, the company has agreed to discontinue use of the selection procedures in question for the track laborer and building and bridge laborer positions, and to review and modify its employment practices including recruitment, screening, interviewing, selection, rejection, and hiring, in order to comply with Executive Order 11246. The agreement resolves all violations found by OFCCP.
OFCCP recently launched the Class Member Locator. The purpose of the CML is to identify applicants and/or workers who have been impacted by OFCCP's compliance evaluations and complaint investigations and who may be entitled to a portion of monetary relief and/or consideration for job placement.
---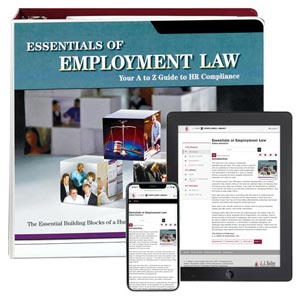 J. J. Keller's Essentials of Employment Law Manual covers more than 100 vital HR topics, including FMLA, ADA, HIPAA, FLSA, COBRA and more.
---
J. J. Keller's FREE HRClicks™ email newsletter brings quick-read human resources-related news right to your email inbox.