Transport interpretations under review
Posted July 7, 2016
It's been nearly 20 years since the Federal Motor Carrier Safety Administration (FMCSA) conducted a comprehensive review of its question-and-answer guidance. The Fixing America's Surface Transportation (FAST) Act requires the agency to evaluate and update its regulatory guidance and, where possible, incorporate the guidance into the regulations "to promote clear, consistent, and enforceable rules."
The FMCSA has asked its Motor Carrier Safety Advisory Committee (MCSAC) to make recommendations on how the agency should proceed with its first comprehensive review of regulatory guidance since 1997. The committee is expected to advise the FMCSA on:
Prioritizing guidance that should be incorporated into the regulations;
Identifying guidance that appears to be inconsistent with the regulations or that makes enforcement difficult; and
Identifying guidance that should remain in place.
The agency recently posted a letter to MCSAC member Colonel Scott Hernandez, Chief of the Colorado State Patrol (CSP), from Major Jon Barba in the CSP's Motor Carrier Safety Branch, with recommendations on prioritizing the guidance review process.
Major Barba argues that the following should be the agency's top five priorities:
Hours of service (Part 395). "Several interpretations that address adverse or emergency driving conditions should be incorporated into the regulation rather than being an interpretation," the letter states. "If a definition existed for off-duty time, several interpretations could be eliminated. Additionally, personal conveyance should be defined and any interpretation revised to include specific distances."
Commercial Driver's License Standards; Requirements and Penalties (Part 383). "This is a high priority due to specific interpretations [that] are in direct conflict with other interpretations, for example, 383.3 Question #13 and 383.93 Question #3. These conflicts highlight the need for drivers to have an appropriate understanding of CDL regulations. This is critical to ensure drivers are properly licensed and safe transportation of passengers and property can occur."
Qualifications of Drivers and Longer Combination Vehicle (LCV) Driver Instructors (Part 391). "This section contains interpretations which need to be clarified or put into the regulations updating the regulation and interpretation to be consistent with current enforcement philosophies. For example, 391.15 Question #10 dealing with a suspension or revocation by a state other than the state issuing the license."
Driving of Motor Vehicles (Part 392). "This section contains an interpretation (392.6 Question #1) that does not take into account new speed limits and changes to the hours-of-service rules."
Parts and Accessories Necessary for Safe Operation (Part 393). "There have been a significant number of enforcement memorandums that have not been included in the interpretations or regulations to clarify specific issues," the letter says.
---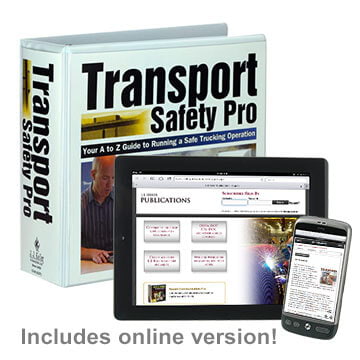 J. J. Keller's Transport Safety Pro offers the tools you need to create and maintain an efficient, compliant operation.
---
J. J. Keller's FREE Transportation SafetyClicks™ email newsletter brings quick-read safety and compliance news right to your email box.