Gig economy raises questions about employment liability
Posted July 11, 2016
Whether it's called the gig economy, the sharing economy, or freelance nation, the way a growing number of Americans are piecing together a living is leading to a new employment landscape; one in which the concepts of work and the workplace are being redefined.
A new outlook from the employment authorities at Challenger, Gray & Christmas, Inc., predicts that the arrival of platforms like online transportation networks, vacation home rental finders, peer-to-peer sporting equipment rentals, along with the explosion of users providing and purchasing the respective services and products, will reshape the workforce in new and unexpected ways.
"Most of the impact will be positive, as workers in this burgeoning environment will generate new and, possibly, multiple streams of income," said John A. Challenger, CEO of Challenger, Gray & Christmas. "These services are also great for consumers who have new and innovative ways to connect directly with vendors. However, as we have already seen in lawsuits…the relationship between employer and employee is complex and presents many questions regarding the rights and responsibilities of both parties."
Employee liability gets tricky
Individuals who pick you up from the airport or deliver your Mac Book from the electronics store are not employees of these companies. While workers typically undergo a comprehensive application process replete with background checks, they are considered independent contractors.
"The problem stems from the fact that the parent company is really an app developer and not a traditional employer. [Transportation web services] simply provide the platform that connects drivers and riders. They need both parties in order to succeed, but the drivers technically are not employed by either service," said Challenger.
"Likewise, [a vacation home web service] does not employ those who rent out their rooms or homes," he added. "They simply provide the mechanism by which those home owners can find guests. The biggest question in these new arrangement is who is ultimately responsible for protecting the rights, safety, and integrity of both providers and buyers?"
Independent contractors comprise more than 10 million workers, according to the 2010 census, and another 7 million workers aged 20 and over work two jobs. In 2015, almost 4 million workers had a primary job and a secondary part-time job, while another 1.9 million had two part-time jobs. Platforms like transportation networks will likely change these numbers dramatically over the next decade.
Recent legal decisions do not appear to have negatively impacted the services' attraction to potential drivers. The possibility to work one's own schedule is a definite boon to free agents.
While not impacting recruitment, the recent rulings represent the biggest threat to services. Last fall, a California regulator determined a former driver for a transportation web service was an employee and needed to be paid unemployment benefits. Another judge found a driver was entitled to back wages. The company argued that these rulings applied to only those individual drivers, and that the majority of drivers want to be independent contractors who set their own shifts.
---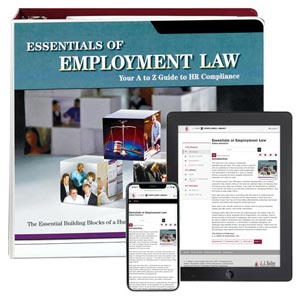 J. J. Keller's Essentials of Employment Law Manual covers more than 100 vital HR topics, including FMLA, ADA, HIPAA, FLSA, COBRA and more.
---
J. J. Keller's FREE HRClicks™ email newsletter brings quick-read human resources-related news right to your email inbox.