FMCSA declares passenger motor carrier to be an imminent hazard to public safety
Posted July 20, 2016
The Federal Motor Carrier Safety Administration (FMCSA) has declared a father and son to each be an imminent hazard to public safety, individually and as a passenger motor carrier, and has ordered both not to operate any commercial motor vehicle in interstate or intrastate commerce.
The son was served the federal order on July 6, 2016, and the father was served on July 7, 2016. Neither of the men possess a commercial driver's license (CDL), despite the fact that they operate a passenger motor carrier.
FMCSA reports that on June 18, 2016, the son was driving a pick-up truck transporting luggage while his father followed behind in a 15 passenger van which was carrying 16 passengers. In Virginia, while engaged in interstate commerce from North Carolina to New Jersey, the father fell asleep, causing the van to roll over as many as six times. The back passenger seat belts were disabled and six passengers were ejected from the van and killed at the scene, including a four-to five-year old child who was unrestrained by either a seat belt or car seat. Ten other passengers were injured, with at least three other serious injuries. The vehicle was uninsured at the time of the accident.
Among the federal safety regulations violations committed, the two men individually were both operating motor vehicles without being properly licensed or qualified to do so, and failed to comply with hours-of-service (HOS) requirements and regulations prohibiting the fatigued operation of commercial motor vehicles.
The two men also may be subject to a civil penalty enforcement proceeding brought by FMCSA for their violations of the agency's safety regulations.
Failure to comply with the provisions of a federal imminent hazard out-of-service order may result in action by the U.S. Attorney's Office for equitable relief, as well as and civil penalties. Civil penalties of up to $25,000 may be assessed any violation of the order. Knowing and/or willful violation of the order may also result in criminal charges.
---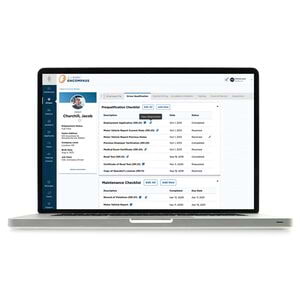 J. J. Keller® E-Logs - Compatible with iPad®, iPhone® and Android™ mobile devices. Affordable, flexible options from the nation's most respected transportation solutions provider.
---
J. J. Keller's FREE Transportation SafetyClicks™ email newsletter brings quick-read safety and compliance news right to your email box.