EEOC releases new fact sheet to inform youth workers about religious discrimination
Posted July 26, 2016
U.S. Equal Employment Opportunity Commission (EEOC) Chair Jenny Yang and Commissioner Charlotte Burrows participated in an interagency briefing June 22 at the White House, where they announced the release of a one-page fact sheet designed to help young workers better understand their rights and responsibilities under the federal employment antidiscrimination laws prohibiting religious discrimination. The fact sheet is available at EEOC's Youth@Work website, which presents information for teens and other young workers about employment discrimination.
Combating Religious Discrimination Today, a community engagement initiative coordinated by the White House and the U.S. Department of Justice, Civil Rights Division, brought together EEOC and other federal agencies to promote religious freedom, challenge religious discrimination, and enhance efforts to combat religion-based hate violence and crimes. The report from the effort is available on the U.S. Department of Justice website.
Additionally, in an effort to improve the information available about religious discrimination, EEOC announced it will implement changes in the collection of demographic data from individuals who file charges with the agency. These changes will allow EEOC to collect more precise data about the religion of the individual alleging discrimination — allowing the agency, as well as the public, to recognize and respond to trends in charge data.
Finally, EEOC plans to improve coordination with the Department of Labor's Office of Federal Contract Compliance Programs (OFCCP), which enforces the prohibition of religious discrimination in employment by federal contractors and subcontractors. EEOC and OFCCP will work together to develop joint outreach and education efforts concerning discrimination based on religion.
Religious discrimination remains an issue in the American workplace. In fiscal year 2015, EEOC received 3,502 charges alleging discrimination on the basis of religion, with the top issues alleged being discharge, harassment, terms and conditions of employment, and reasonable accommodation.
EEOC has filed 73 lawsuits since the beginning of fiscal year 2010, including five in FY 2015, involving claims of religious discrimination under Title VII of the Civil Rights Act of 1964. During the same period, the Commission recovered approximately $4 million, as well as other important types of relief, for victims of religious discrimination.
---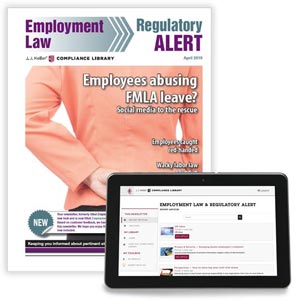 J. J. Keller's Employment Law Today newsletter explains why you need to care, what you need to do and how your business could be affected by HR industry news.
---
J. J. Keller's FREE HRClicks™ email newsletter brings quick-read human resources-related news right to your email inbox.