EEOC files religious discrimination lawsuit against hospitality staffing firm
Posted July 18, 2016
An Orlando staffing company dedicated to Central Florida's hospitality industry violated federal law by firing an employee over his Rastafarian religious practices, the U.S. Equal Employment Opportunity Commission (EEOC) has charged in a lawsuit.
According to EEOC's suit the company denied a religious accommodation to an employee assigned to work at a hotel as a prep cook, from late 2011 through February 2013, when he was fired. The employee practices Rastafarianism, and wears his hair in dreadlocks in observance of his religious beliefs. The employee worked at the jobsite with his dreadlocks tucked under his hat for over a year without question or incident.
Following a February 5, 2013, inspection of the kitchen area by a hotel staff member for compliance with the hotel appearance standards, staffing company management told the employee he had to cut his hair if he wanted to return to work, despite his explanation that he could not do so because he was a practicing Rastafarian and that he grew his hair into dreadlocks as part of his religious beliefs.
The lawsuit claims that because the employee did not cut his hair, he was prohibited from returning to work at the hotel. The staffing company made no effort to accommodate the employee's religious beliefs, and he was terminated.
Such alleged conduct violates Title VII of the Civil Rights Act of 1964, which prohibits religious discrimination and requires employers to make reasonable accommodations to employees' sincerely held religious beliefs so long as this does not pose an undue hardship to the business.
The EEOC is asking the court to grant a permanent injunction enjoining the staffing company from further engaging in any employment practice that discriminates against employees because of their religious beliefs and requiring the company to reasonably accommodate the religious beliefs of employees in the future.
The suit also asks the court to order the staffing company to reinstate the employee, grant back pay, provide compensatory and punitive damages, and award any other relief the court deems necessary and proper.
---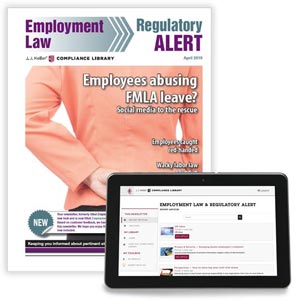 J. J. Keller's Employment Law Today newsletter explains why you need to care, what you need to do and how your business could be affected by HR industry news.
---
J. J. Keller's FREE HRClicks™ email newsletter brings quick-read human resources-related news right to your email inbox.