CDC report shows highest suicide rates by occupation
Posted July 12, 2016
The Centers for Disease Control and Prevention (CDC) released a report analyzing more than 12,000 suicides by occupational group in 17 states in 2012 from the National Violent Death Reporting System.
Key findings include:
Individuals working in the farming, fishing, and forestry group had the highest rate of suicide overall (84.5 per 100,000 population) and among males (90.5). Followed by construction and extraction (53.3); and then installation, maintenance, and repair (47.9).
The highest rates of suicide among females occurred among those working in protective service occupations (14.1).
Overall, the lowest rate of suicide (7.5) was found in the education, training, and library occupational group.
According to the CDC, occupational groups with higher suicide rates might be at risk for a number of reasons, including
Job-related isolation and demands,
Stressful work environments,
Work-home imbalance, and
Socioeconomic inequities, including lower income, lower education level, and lack of access to health services
CDC's analysis broke down the possible risks by occupation, they are as follows:
Farmers. Previous research suggests that farmers' chronic exposure to pesticides might affect the neurologic system and contribute to depressive symptoms.
Construction workers. These workers might be at higher risk because of financial and interpersonal concerns related to lack of steady employment, and fragmented community or isolation.
Installation, maintenance, and repair. It has been hypothesized that one possible factor contributing to higher suicide risk among this group might be long-term exposure to solvents that can cause neurotoxic damage, including memory impairment and depressive symptoms.
Police officers. Research has suggested that higher suicide rates among police are related to stressors including exposure to traumatic, violent, and lethal situations; work overload; shift work; and access to lethal means.
Management. Of note, while management occupations had the tenth highest rate of suicide, they accounted for the second largest percentage of suicide deaths overall; therefore, it is important to target prevention strategies to managers as well.
The CDC recommends suicide prevention strategies for workplaces, such as employee assistance programs, which might serve as gateways to behavioral health treatment. Additionally, workplace wellness programs can provide education and training for staff members and supervisors to aid in recognition of suicide warning signs (e.g., withdrawal, increased substance abuse, agitation, and putting affairs in order).
---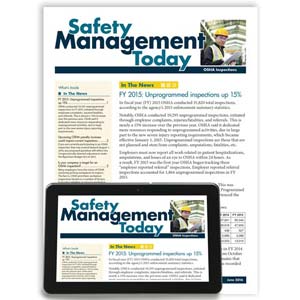 J. J. Keller's Safety Management Today Newsletter is packed with money-saving tips and practical advice that can result in improved on-the-job performance.
---
J. J. Keller's FREE Workplace SafetyClicks™ email newsletter brings quick-read workplace safety and compliance news right to your email box.