CDC report shows United States has highest rate of crash deaths
Posted July 13, 2016
The Centers for Disease Control and Prevention (CDC) released an analysis on motor vehicle crash deaths in the United States and 19 other high-income countries. The analysis came from data compiled by the World Health Organization for Economic Co-operation and Development from the years 2000 and 2013. Key finding from CDC's analysis include:
Crash rates
Among all 20 countries, the United States had the highest rate of crash deaths per 100,000 population (10.3). Canada was nearly half the rate of the United States at 5.4.
In 2013, the United States motor vehicle crash death rate of 10.3 per 100,000 population had decreased 31 percent from the rate in 2000. However, in the 19 comparison countries, the rate declined an average of 56 percent.
Seat belt use
The United States ranked 18th out of 20 for front seat use, and 13th out of 18 for rear seat use for the countries which information on seat belt use was available.
Speed and alcohol
Among 19 countries, the United States reported the second highest percentage of motor vehicle crash deaths involving alcohol-impaired driving (31 percent), and among 15, had the eighth highest percentage of crash deaths that involved speeding (29 percent).
---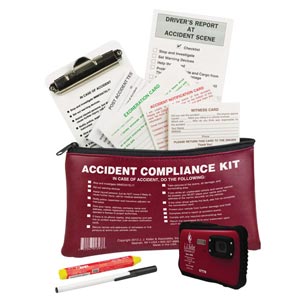 J. J. Keller's Accident Compliance Kit in Vinyl Pouch w/ Digital Camera helps drivers collect, organize and report vehicle accident information.
---
J. J. Keller's FREE Transportation SafetyClicks™ email newsletter brings quick-read safety and compliance news right to your email box.