FMCSA's strategic plan addressed at MCSAC meeting
Posted June 13, 2017
During the first day of a 2-day meeting at U.S. DOT Headquarters, 20 experts representing motor carriers, safety advocates, safety enforcement, and labor sectors mulled over what FMCSA's 2018-2022 Strategic Plan should include and what regulations might be considered for elimination. These experts make up the Motor Carrier Safety Advisory Committee (MCSAC), which meets at the direction of FMCSA to provide advice and recommendations on motor carrier issues.
Bob Miller, Director of Policy, Strategic Planning, and Regulations at FMCSA, presented information on FMCSA's current strategic plan and potential discussion points for the new 5-year plan. Many possible strategies were suggested by committee members, including working with other stakeholders in the supply chain (e.g., shippers and receivers), looking at practices of other countries that have better safety records than the U.S., improving data collection, sharing, and analysis for interstate and intrastate carriers, promoting the use of pilot programs to improve safety, looking at practices of carriers that have good safety records, and exploring fatigue-monitoring technologies.
In response to the Executive Order to reduce the regulatory burden without compromising safety, one area FMCSA is looking at is cleaning up regulations brought over to FMCSA after the Interstate Commerce Commission (ICC) was sunset about 20 years ago (e.g., Parts 369 and 370). Another part being looked at is Part 398, Transportation of Migrant Workers. Sections in Parts 391, 395, and 396 were also suggested as possibilities.
Both issues are in the beginning stages of discussion. The MCSAC is expected to continue working on these tasks and submit its report to FMCSA after the fall 2017 meeting.
This article was written by Betty Weiland of J. J. Keller & Associates, Inc
---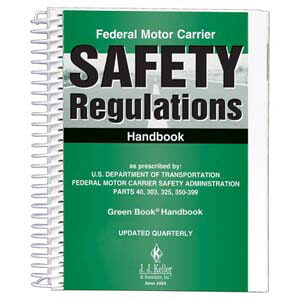 J. J. Keller's Federal Motor Carrier Safety Regulations Handbook includes Parts 303, 325, 350-399, and 40 of the FMCSRs, with interpretations inserted immediately following the regulation.
---
J. J. Keller's FREE Transportation SafetyClicks™ email newsletter brings quick-read safety and compliance news right to your email box.