Thirty-eight percent of workers have left a job because of a manager, survey finds
Posted June 2, 2016
An employee's relationship with a boss is an important indicator of success or failure on the job. Sixty-two percent of employees grade their bosses' performance as either an "A" or "B," according to a new survey from CareerBuilder. More than 1 in 5 employees (22 percent) would assign a grade of "C." While 10 percent grade their boss with a "D," and 6 percent say their boss failed — earning an "F."
Western-based bosses were graded higher on average — 32 percent gave their bosses an "A" and 35 percent gave a grade of "B." While workers in the Northeast were more critical of their bosses — 23 percent graded their boss with an "A" and 34 percent said their boss deserved a "B."
The West vs. the rest
"We are starting to see a slight shift of favor towards management styles that are seen as a little more hands-off, which employees view as trust from their bosses," said Rosemary Haefner, chief human resources officer for CareerBuilder. "Everyone craves respect, and it seems like bosses in certain regions have figured out the perfect balance to keep subordinates happy."
Thirty percent of workers in the West say they interact with their boss only once per week or less in person. This is 3 percentage points higher than the South (27 percent), 7 percentage points higher than the Midwest (23 percent), and 6 percentage points higher than the Northeast (24 percent).
Even with less daily supervision, employees in the West feel their bosses provide guidance and feedback — 69 percent in the West compared to 59 percent in the Northeast. Workers in the West are also less critical of their managers: 33 percent of employees in the Northeast believe their boss should not be in a leadership role — in the West, only 23 percent of workers feel this way.
A bad manager can lead to the loss of an employee
Workers look for a positive working relationship with their boss, and a bad experience can have an employee running for the hills. Almost 2 in 5 workers (38 percent) said they have left a job due to their manager.
A bad experience can also come from a manager that asks more than is required from his or her employees. More than 1 in 5 workers (21 percent) said their boss has asked them to do things that are not related to their job.
Some of the more unusual requests that employees mentioned include:
Asked employee NOT to help his ex-wife move
Asked employee to take her grandmother to the doctor
Asked employee to feed the birds in his backyard
Asked employee to get a dead raccoon out of his truck
Asked employee to breakup with his girlfriend for him
Asked employee to taste a dog treat
Asked employee to take his cell phone to get serviced after he dropped it in the toilet
Asked employee to help organize her high school reunion
Asked employee to help cut her out of her pants
Asked employee to shave his back
Survey methodology
This survey was conducted online within the U.S. by Harris Poll on behalf of CareerBuilder among 3,031 workers ages 18 and over (employed full-time, not self-employed, non-government) between February 10 and March 17, 2016 (percentages for some questions are based on a subset, based on their responses to certain questions). With a pure probability sample of 3,031, one could say with a 95 percent probability that the overall results have a sampling error of +/- 1.78 percentage points. Sampling error for data from sub-samples is higher and varies.
---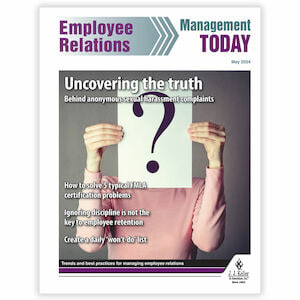 The SUPER adVISOR™ newsletter contains four pages dedicated to the HR manager and a corresponding four-page pullout dedicated to the needs of supervisors.
---
J. J. Keller's FREE HRClicks™ email newsletter brings quick-read human resources-related news right to your email inbox.