Study offers recruiting insights for companies looking to hire
Posted June 9, 2016
Although 76 percent of full-time, employed workers are either actively looking for a job or open to new opportunities, 48 percent of employers can't seem to find the workers they need to fill their job vacancies.
A new study from CareerBuilder highlights seven important facts every employer should know about the candidate job search experience:
Candidates are less likely to jump through hoops. The market has become more employee-centric and candidates are quicker to drop off if the application seems too cumbersome. One in five candidates said they are not willing to complete an application that takes them 20 minutes or more, and 76 percent want to know how long it will take them to finish an application before it starts. However, the majority of job seekers said they would be willing to endure a lengthy application process if the company is offering a higher base salary.
Candidates move on quickly. An inefficient, slow-moving hiring process will kill your recruiting efforts. Sixty-six percent of job seekers said they will wait less than two weeks to hear back from the employer before considering the opportunity a lost cause and moving on to another.
If you're hard to find online, candidates will be too. Most candidates (64 percent) said after reading a job posting, they will spend time researching before applying. If they can't find the info they need on the company, 37 percent of all candidates will just move on to the next company or job listing. Your company career site and social presence must be strong.
Candidates expect more information in the job listing. It's not enough to describe the company and job. The top things candidates said they want to see in a job posting include:

Salary — 74 percent
Total benefits package — 61 percent
Employee ratings — 46 percent
Contact info of hiring manager — 40 percent
Work from home options — 39 percent
How the company provides work/life balance — 35 percent
Photos/videos of the work environment — 31 percent
Team structure and hierarchy of the role — 27 percent
How many people applied — 25 percent

Millennials may swipe left if your mobile capabilities are weak. 1 in 10 millennials said they would drop a company out of consideration if they couldn't apply to a job via their mobile device. So if your site isn't mobile ready, your pages take too long to load or you have poor navigation through mobile, you could be losing fresh new talent.
You may not be covering all your bases. Consumers audiences are very fragmented. Job seekers use up to 16 sources in their job search. Are you everywhere they are?
You may not know how good or bad your process is in the eyes of candidates. Only 31 percent of employers claim to have tried applying to one of their company's open jobs to see what the process is like. Put on that job seeker hat and go to one of your jobs, and go to your career site, and interact with your company through the eyes of the job seeker so you can make improvements where needed.
Survey methodology
In partnership with Inavero, CareerBuilder surveyed 4,505 workers, ages 18 and over and 1,505 hiring decision makers, between February 5, 2016 and March 1, 2016 in the United States, 505 workers in Canada in an effort to understand the factors that influence candidates' job search behavior. With pure probability samples of 505 and 5,010, one could say with a 95 percent probability that the overall results have sampling errors of +/- 4.01 and +/- 1.38 percentage points, respectively. Sampling error for data from sub-samples is higher and varies.
---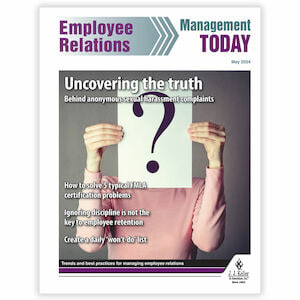 The SUPER adVISOR™ newsletter contains four pages dedicated to the HR manager and a corresponding four-page pullout dedicated to the needs of supervisors.
---
J. J. Keller's FREE HRClicks™ email newsletter brings quick-read human resources-related news right to your email inbox.