Security company settles disability and genetic information discrimination cases for $329,640
Posted June 29, 2016
A security firm has agreed to settle disability and genetic information discrimination charges for monetary relief totaling $329,640, the U.S. Equal Employment Opportunity Commission (EEOC) announced. The settlement of EEOC charges of discrimination impacts over 1,100 job applicants who were required to disclose their disabilities and/or family medical history.
Charges were filed with EEOC's Little Rock and Honolulu offices in 2011 and 2012 alleging that the company required job applicants to disclose their disabilities and/or family medical history, in violation of the Americans with Disabilities Act (ADA) and the Genetic Information Nondiscrimination Act (GINA).
EEOC's investigation found that the company required applicants to complete questionnaires with questions pertaining to their medical condition and family medical history during the application process. Such pre-employment inquiries are prohibited under the ADA and GINA.
Without admitting liability, the company agreed to enter into a two-year conciliation agreement with EEOC and the alleged victims, thereby avoiding litigation. During the course of EEOC's investigation, the company ceased asking about genetic information and removed the questionnaires from the application process.
Aside from the monetary relief, the company further agreed to remove prohibited medical inquiries in the application process. EEOC says it will monitor compliance with the agreement.
---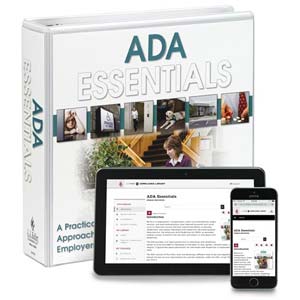 J. J. Keller's ADA Essentials Manual reviews Americans with Disabilities Act (ADA) guidelines and provides plain-English explanations to help you stay in compliance.
---
J. J. Keller's FREE HRClicks™ email newsletter brings quick-read human resources-related news right to your email inbox.