Restaurant to pay employees nearly $41K in back wages
Posted June 20, 2016
Investigators from the U.S. Department of Labor's Wage and Hour Division (WHD) found that an Italian restaurant and pizzeria in Kissimmee, Florida, violated the minimum wage, overtime, and recordkeeping provisions of the Fair Labor Standards Act (FLSA).
Specifically, the employer failed to pay legally required minimum wage when some hours worked by employees went unpaid. Overtime violations occurred when hourly-paid servers and cooks were paid straight time for their overtime hours, when overtime was paid occasionally after 80 hours in a two-week period rather than after 40 hours in one week, and when overtime for tipped employees was not based upon the full minimum wage of $7.25 per hour.
The employer also failed to maintain required time and payroll records, and was found to have reported inaccurate numbers of hours worked to the company that processed its payroll. The employer will comply with the FLSA and pay $40,979 in back wages to 15 employees.
---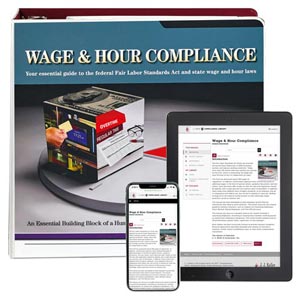 J. J. Keller's Wage and Hour Compliance with FLSA Manual provides critical info to help you comply with the Fair Labor Standards Act (FLSA) and state wage and hour laws.
---
J. J. Keller's FREE HRClicks™ email newsletter brings quick-read human resources-related news right to your email inbox.