Reminder: New period begins for Heavy Vehicle Use Tax
Posted June 15, 2016
The Heavy Vehicle Use Tax (HVUT) period begins on July 1 and ends the following June 30, and you must pay the full year's tax on all vehicles that you have in use during the month of July.
Returns must be filed by the last day of the month following the month of the vehicle's first taxable use in the tax period, even if you are filing the return just to suspend the tax for any vehicle. This means that July's report and tax is due by August 31. They must be filed in accordance with the instructions applicable to the form on which the return is made.
What vehicles are subject to the HVUT?
The HVUT applies to highway motor vehicles having taxable gross weights of 55,000 pounds or more and includes trucks, tractors, and buses.
Who is required to file the HVUT?
You must file Form 2290 and Schedule 1 if a taxable highway motor vehicle is registered, or required to be registered in your name under any state or District of Columbia, Canadian, or Mexican law at the time of its first use (but if the vehicle has dual registration in both the name of the owner and another person, the owner is responsible for filing the tax).
You may be an individual, corporation, partnership, or any other type of organization (including nonprofit charitable, educational, etc.). Schedule 1 on the Form 2290 is used to list all reportable vehicles by category and vehicle identification number (VIN).
When to file electronically?
The requirement for taxpayers with 25 vehicles or more to file the HVUT electronically exists in regulation; however, the IRS will process returns submitted on paper, will not consider them to be late, nor will they issue penalties for not filing electronically. Regardless of this, taxpayers are still encouraged to file electronically for faster service and more accurate returns. When filing electronically, allow one additional day for processing from the due date.
What about foreign vehicles?
Canadian and Mexican registered vehicles that operate in the United States must also pay the full tax.
Foreign carriers operating taxable vehicles into the United States must carry proof of HVUT tax payment in the vehicles and present it to U.S. Customs and Border Protection officials upon request.
What to keep as record?
Records must be kept for all taxable highway vehicles registered in your name, and kept for at least three years after the date the tax is due or paid. You should also keep copies of all returns and schedules you have filed.
---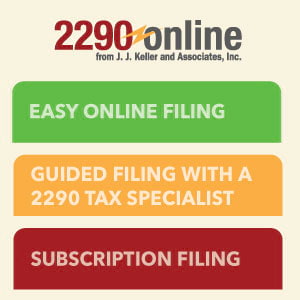 With 2290online from J. J. Keller Business Services, you can quickly enter and electronically file your heavy vehicle use taxes.
---
J. J. Keller's FREE Transportation SafetyClicks™ email newsletter brings quick-read safety and compliance news right to your email box.