OSHA to host small business panel on chemical safety improvements
Posted June 2, 2016
OSHA is initiating a Small Business Advocacy Review Panel in order to get feedback on several potential revisions to OSHA's Process Safety Management Program (PSM) standard.
This effort arises from the President's Executive Order 13650, "Improving Chemical Facility Safety and Security," which charged the Agency to "identify issues related to modernization of the PSM Standard and related standards necessary to meet the goal of preventing major chemical accidents."
The modernization topics OSHA is considering stem from industry best practices, inspection history, stakeholder comments received in response to OSHA's 2013 Request for Information, and lessons learned from accidents involving highly hazardous chemicals.
Topics to be considered by the Small Business Panel include:
Clarifying the PSM exemption for atmospheric storage tanks
Oil and gas-well drilling and servicing
Oil and gas-production facilities
Expanding PSM coverage and requirements for reactivity hazards
Expanding the scope of paragraph (e) by requiring safer technology and alternatives analysis
Updating the List of Highly Hazardous Chemicals in Appendix A of the PSM standard
Revising the PSM standard to require additional management-system elements
Amending Paragraph (d) of the PSM Standard To Require Evaluation of Updates to Applicable RAGAGEP
Clarifying the PSM Standard by adding a definition for RAGAGEP
Expanding the scope of paragraph (j) of the PSM standard to cover the mechanical integrity of any safety-critical equipment
Revising paragraph (n) of the PSM standard to require coordination of emergency planning with local emergency-response authorities
Amending paragraph (m) of the existing PSM standard to require root cause analysis
Revising paragraph (o) of the PSM standard to require third-party compliance audits
Expanding the requirements of §1910.109 to cover dismantling and disposal of explosives, blasting agents, and pyrotechnics
Several additional minor modifications which largely codify existing OSHA interpretations of the PSM standard
Solicit feedback on any similar provision of EPA's RMP rule and the PSM standard that could be streamlined
PSM Small Business Regulatory Enforcement Fairness Act (SBREFA) Schedule
June 2 - Convene SBREFA panel
Teleconferences with SERs

June 21 1:30pm - 4:30pm
June 22 1:30pm - 4:30pm
June 28 9:30am - 12:30pm
June 29 9:30am - 12:30pm

July 8 - all written comments from SERs due
August 1 - Complete panel, and report placed in docket
---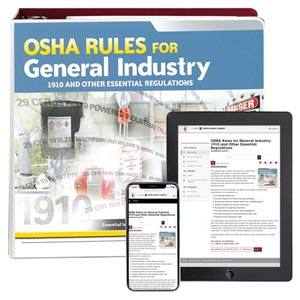 OSHA Rules for General Industry: 1910 and Other Essential Regulations puts OSHA's workplace safety regulations in a reader-friendly format.
---
J. J. Keller's FREE Workplace SafetyClicks™ email newsletter brings quick-read workplace safety and compliance news right to your email box.