NIOSH releases report on advancing Total Worker Health
Posted June 13, 2016
The National Institute of Occupational Health (NIOSH) announced the release of a report containing recommendations for advancing the science of Total Worker Health®. The report, authored by an independent panel of scientists, is a result of the December 2015 Pathways to Prevention (P2P) Workshop, Total Worker Health®–What's Work Got to Do With It? co-sponsored by the National Institutes of Health (NIH) Office of Disease Prevention and the NIH National Heart, Lung, and Blood Institute.
The panel's recommendations, together with the NIOSH Response to the NIH P2P Workshop Recommendations are featured in the May 31 issue of the Annals of Internal Medicine.
The panel's recommendations include convening a meeting of stakeholders to set research priorities, developing a consensus-based framework, expanding research design options, and making investments in research infrastructure.
The NIOSH Response to the NIH P2P Workshop includes the recently published final National Total Worker Health (TWH) Agenda, collaborating with NIH on a meeting of federal stakeholders to identify opportunities for addressing the research gap, and investing in an invitational research methodology workshop.
The panel held a press telebriefing on Tuesday, May 31 to discuss their findings and answer questions from members of the media.
The two-day P2P Workshop brought together experts and over 700 stakeholders in this emerging field to discuss the state of the scientific evidence for TWH. The panel posted a Draft report within a week of the Workshop that contained preliminary recommendations.
More information about the NIH P2P Workshop, including an archived videocast, is available on the NIH website.
---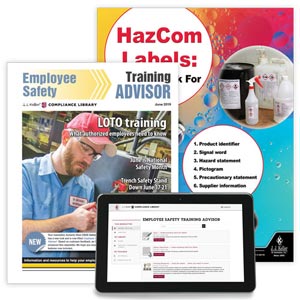 J. J. Keller's OSHA Safety Training Newsletter helps you improve your training techniques and meet OSHA requirements.
---
J. J. Keller's FREE Workplace SafetyClicks™ email newsletter brings quick-read workplace safety and compliance news right to your email box.