Missouri trucking company to pay more than $3.1M to settle discrimination lawsuit
Posted June 6, 2016
A trucking company based in Missouri will pay more than $3.1 million and will make job offers to women who the agency says were victims of the company's unlawful discriminatory hiring policy, the Equal Employment Opportunity Commission (EEOC) announced. The payments follow an earlier court order finding that the company violated federal law by discriminating against female truck driver applicants when it required that they be trained only by female trainers.
According to the court's prior order, the company violated Title VII of the Civil Rights Act of 1964 by engaging in a pattern or practice of discrimination when it denied employment opportunities to women through its same-sex trainer policy. The company adopted its policy in 2004 after it was found in a previous EEOC lawsuit to have violated Title VII based upon the sexual harassment of one of its female driver trainees.
EEOC filed the present suit against the company in September 2011 based on a discrimination charge. The agency reports that because the company had very few female trainers, its same-sex trainer policy forced female trainees to wait extended periods of time, sometimes up to 18 months, for a female trainer to become available, which resulted in most female driver trainees being denied employment. Male applicants were promptly assigned to male trainers. The company ceased using its same-sex trainer policy in 2013 as a result of the agency's suit.
After the court's order on liability, company agreed to pay $250,000 to the defendant to resolve her claims. Last month, the company agreed via consent decree to pay more than $2.8 million in lost wages and damages for 63 other women who were denied job opportunities. EEOC was unable to determine the precise number or identities of all women affected by the company's unlawful policy because, as the court found, the company failed to "preserve the lists [of women who were put on waiting lists] and cooperate in identifying women impacted by the policy …"
On May 27, the court permanently enjoined the company from discriminating against applicants or employees on the basis of sex and ordered that the company shall not implement a same-sex trainer policy or practice that creates barriers to the entry or advancement of female driver applicants or employees.
The court's order will help ensure the company does not adopt a same-sex trainer policy again. The court also ordered the company to give priority hiring consideration to the class members and make them immediately eligible for benefits without a waiting period.
---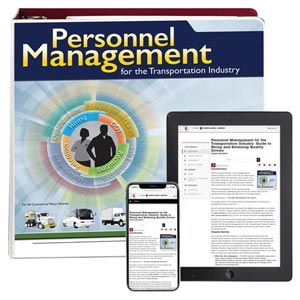 J. J. Keller's Personnel Management for the Transportation Industry provides transportation professionals with the information necessary for effective people/driver management.
---
J. J. Keller's FREE Transportation SafetyClicks™ email newsletter brings quick-read safety and compliance news right to your email box.