EPA final rule to affect Tier II and SDS reporting provisions
Posted June 16, 2016
EPA announced it is amending its hazardous chemical reporting regulations due to the changes in the OSHA Hazard Communication Standard (HCS). OSHA's HCS was recently revised to conform to the United Nations Globally Harmonized System of Classification and Labeling of Chemicals (GHS).
Under the revised HCS, chemical manufacturers and importers are required to evaluate their chemicals according to the new criteria adopted by OSHA to ensure that they are classified and labeled appropriately. Manufacturers and importers are also required to develop standardized Safety Data Sheets (formerly known as Material Safety Data Sheets) and distribute them to downstream users of their chemicals.
However, the changes in HCS affect the reporting requirements under sections 311 and 312 of the Emergency Planning and Community Right-to-Know Act (EPCRA). That means the agency had to amend 40 CFR 370. Based on the new classification criteria that OSHA adopted, EPA is revising the existing hazard categories for hazardous chemical inventory form reporting (known as Tier II reporting) and for hazardous chemical list reporting. EPA is also making a few minor corrections in the hazardous chemical reporting regulations.
The final rule is effective June 13, 2016, and has a compliance date of January 1, 2018. Facilities are required to comply with reporting the new physical and health hazards on their Tier II inventory form for reporting year 2017, by March 1, 2018.
---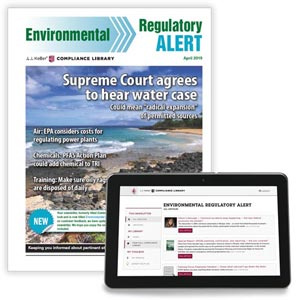 J. J. Keller's Environmental Alert: The Compliance Guide for Safety Professionals helps you stay on top of the latest environmental enforcement issues.
---
J. J. Keller's FREE Workplace SafetyClicks™ email newsletter brings quick-read workplace safety and compliance news right to your email box.