District court blocks 'persuader' rule
Posted June 30, 2016
On June 27, the United States District Court for the Northern District of Texas issued a nationwide preliminary injunction against the Department of Labor's "persuader" rule.
The final rule was effective on April 25, 2016. The rule would be applicable to arrangements and agreements as well as payments (including reimbursed expenses) made on or after July 1, 2016.
The district court's preliminary injunction, however, means that the rule is prevented from being implemented nationwide until the court decides the case, which will then be open for appeal.
The new rule re-interprets Section 203 of the Labor Management Reporting and Disclosure Act. The law requires labor organizations, consultants, and employers to file reports and disclose expenditures on labor-management activities. The new rule, if implemented, would require employers to report consultant — or "persuader" agreements — to the DOL. According to the DOL, employers commonly engage third-party consultants in union matters, adding that workers often do not know when employers engage consultants.
Critics of the new rule say it will interfere with an employer's right to obtain legal advice, particularly that it will compromise the confidentiality of attorney-client communications.
---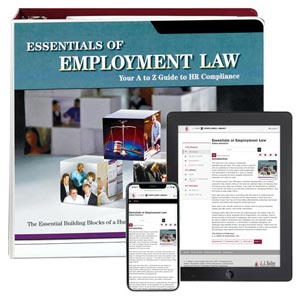 J. J. Keller's Essentials of Employment Law Manual covers more than 100 vital HR topics, including FMLA, ADA, HIPAA, FLSA, COBRA and more.
---
J. J. Keller's FREE HRClicks™ email newsletter brings quick-read human resources-related news right to your email inbox.