Communicating the FMLA (Part 5)
Posted June 17, 2016
Under the Family and Medical Leave Act (FMLA), some requirements of the law apply to the notices you are required to provide to employees. This could be the general notice (poster), the eligibility/rights and responsibilities notice, and the designation notice. This final installment in the FMLA communication series addresses accessibility requirements and other provisions that generally apply to communications.
Accessibility
If a significant portion of your workforce is not literate in English, you are required to provide the notices in languages in which those employees are literate. Unfortunately, the term "significant portion" is not defined. The safest approach would be, of course, to translate the notices if you are aware that your workers speak an alternative language. While this might have a minor cost involved, it will be undoubtedly less than an FMLA claim. The current multicultural population could further support the up-front cost.
You are also required to comply with all applicable requirements under federal or state law for notices provided to individuals with sensory impairments. Therefore, as an accommodation to an employee with a disability for example, you could be required to provide such notices in a format that the employee can access, such as Braille, large print, and so on.
Employees also have notice obligations and consequences. First off, they must put you on notice of the need for leave, but may do so in a variety of ways. They generally need to comply with your policy regarding providing notice, unless unusual circumstances are involved. If they fail to provide notice, your FMLA obligations are generally not triggered, and an employee could risk his or her FMLA protections. The same is true if employees fail to provide a requested certification.
Consequences of failure to provide notices
If you fail to follow the notice requirements, you may risk facing a claim that you interfered with, restrained, or denied the exercise of an employee's FMLA rights. You may be liable for compensation and benefits lost by reason of the violation, for other actual monetary losses sustained as a direct result of the violation, and for appropriate equitable or other relief, including employment, reinstatement promotion, or any other relief tailored to the harm suffered.
Both employers and employees have obligations when it comes to FMLA communication. The difference is that if you fail to adhere to your requirements, your company could be sued. If an employee fails to adhere to his or her requirements, he or she could have FMLA protections delayed or denied. In the end, it pays to keep the lines of FMLA communication open.
This article was written by Darlene Clabault of J. J. Keller & Associates, Inc.
---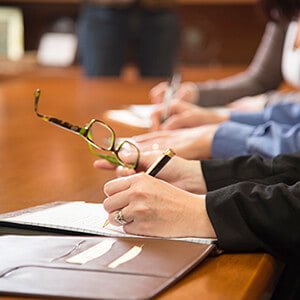 J. J. Keller's Family and Medical Leave Act (FMLA) Consulting Services can help your company ensure compliance with FMLA requirements and minimize the law's burden to your organization.
---
J. J. Keller's FREE HRClicks™ email newsletter brings quick-read human resources-related news right to your email inbox.