Communicating the FMLA (Part 3)
Posted June 3, 2016
The crux of an employee's leave under the Family and Medical Leave Act (FMLA) might be said to fall on the certification. This form is where an employer gains enough information to determine whether an absence qualifies for FMLA protections. The form can also be the cause of an employer's frustrations when employees fail to provide one in a timely manner or do not provide enough information.
The certification is often included with the eligibility/rights and responsibilities notice. You are not required to request a certification, but may do so, and many employers do. While you may request a certification for most qualifying reasons for leave, you may not request a certification when employees take leave solely to bond with a healthy child.
When the employee receives a request for a certification, he or she generally has 15 days to return the completed form to you. If the employee fails to provide a certification, you may delay or deny FMLA protections for the leave, as follows:
If the need for leave is foreseeable, you may deny FMLA coverage until the certification is provided. For example, if an employee has 15 days to provide one, but does not do so for 45 days without sufficient reason for the delay, you may deny FMLA protections for the 30-day period following the expiration of the 15-day window.
If the need for leave is unforeseeable, you may deny FMLA coverage for the requested leave if the employee fails to provide a certification within 15 days unless not practicable due to extenuating circumstances. Absent extenuating circumstances, you may deny FMLA leave after the 15-day window has closed, until a sufficient certification is provided. If the employee never produces a certification, the leave is not FMLA leave.
Employees are to provide a complete and sufficient certification. Complete means that all the applicable entries have been completed. Sufficient means that the information provided is not vague, ambiguous, or non-responsive.
If you receive a certification that is incomplete or insufficient, you are to return it to the employee with a written list of what is needed to make it complete and sufficient. The employee then has seven days to cure the certification.
Only after you have a complete and sufficient certification, may you may contact the health care provider, and then only for authentication or clarification purposes.
You may request a recertification no more often than every 30 days or, if the current certification indicates a minimum duration of the condition, when the condition expires; whichever is later. You need not wait the 30 days/minimum duration in limited situations:
If the employee requests an extension of leave;
If circumstances described in the current certification change significantly (e.g., the duration or frequency of the absence); or
You receive information that casts doubt upon the employee's stated reason for leave or the continuing validity of the certification.
In all cases, you may request a recertification every six months in relation to an absence. Sometimes, the need for leave spans multiple leave years, even if it is for the same qualifying reason. When an employee first puts you on notice of the need for leave for such a qualifying reason in a new 12-month leave year, you may request a new certification. While you may request a second or third opinion on new certifications, you may not do so on recertifications.
In addition to a certification supporting the need for leave, you may require an employee who takes leave for his or her own serious health condition, to provide a fitness-for-duty certification before returning to work.
This article was written by Darlene Clabault of J. J. Keller & Associates, Inc.
---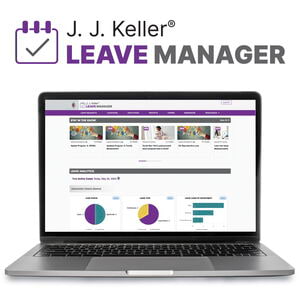 J. J. Keller® FMLA Manager™ Service makes leave tracking easier while complying with the latest federal & state regulations.
---
J. J. Keller's FREE HRClicks™ email newsletter brings quick-read human resources-related news right to your email inbox.