CDC analyzes seat belt use in adult workers
Posted June 22, 2016
The Centers for Disease Control and Prevention (CDC) released an analysis providing, for the first time, seat belt use estimates among a wide variety of occupational groups in 21 U.S. states. According to the agency, roadway incidents involving motorized vehicles accounted for 24 percent of fatal occupational injuries in the United States during 2013 and were the leading cause of fatal injuries among workers.
The CDC's analysis of the data from the 2013 Behavioral Risk Factor Surveillance System (BRFSS), found that self-reported seat belt use among adult workers in those states varies by occupation and that this variation persists after adjustment for factors known to be associated with seat belt use (age, sex, race/ethnicity, education, marital status, body mass index, county urbanization, and state seat belt law type).
Overall and by occupational group, in 2013, seat belt use among employed adults was lower in states that did not have primary seat belt laws. For all occupational groups combined, the crude prevalence of not always using a seat belt was as follows:
States with primary seat belt laws — 10.4 percent
States with secondary seat belt laws — 23.6 percent
Among workers in the transportation and material moving group, this includes several occupations that involve frequent driving, were found to not always use a seat belt as follows:
States with primary seat belt laws — 12.4 percent
States with secondary seat belt laws — 33.7 percent
The analysis also estimates that workers in several groups with occupations for which driving is not a primary job duty report lower frequency of seat belt use than workers in transportation and material moving occupations. Those occupations include:
Construction and extraction;
Farming, fishing, and forestry;
Installation, maintenance, and repair; and
Protective service.
The CDC says employers can reduce injuries among workers by implementing comprehensive safety programs that require seat belt use at all times for employees and contractors (drivers and passengers) and reinforcing this policy in training programs.
---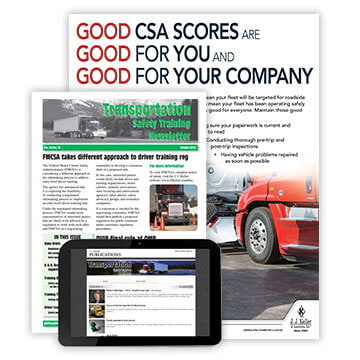 J. J. Keller's Transportation Safety Training Newsletter helps you build your drivers' skill level, reduce the chance of fines, and stay in compliance.
---
J. J. Keller's FREE Transportation SafetyClicks™ email newsletter brings quick-read safety and compliance news right to your email box.