Entry-level driver training effective date pushed back two weeks
Posted May 23, 2017
The Federal Motor Carrier Safety Administration (FMCSA) is again delaying the effective date of its entry-level driver training requirements. The effective date is now June 5, 2017.
The compliance date of the final rule (Minimum Training Requirements for Entry-Level Commercial Motor Vehicle Operators) is not affected by this delay. It remains as February 7, 2020.
The final rule published December 8, 2016, had an initial effective date of February 6, 2017. As the result of a memorandum on January 20, 2017, from the Assistant to the President and Chief of Staff, entitled ''Regulatory Freeze Pending Review,'' FMCSA delayed the rule's effective date until March 21, 2017. It was delayed for the second time until May 22, 2017.
This third delay of the effective date — until June 5, 2017 — is necessary to provide the opportunity for further review and consideration of this new regulation, consistent with the memorandum, according to FMCSA.
Effective vs. compliance date
The effective date of a rule is when the regulation is incorporated into the Code of Federal Regulations (CFR). In the case of the entry-level driver training rule, it will be incorporated into Parts 380, 383, and 384 of the Federal Motor Carrier Safety Regulations.
Often regulations are incorporated into the CFR with a future compliance date. In other words, they appear in the current version of the regulations with a future implementation date when the requirements must be carried out. For entry-level driver training, the new requirements will not become mandatory until February 7, 2020, despite appearing in the FMCSRs for over two years.
---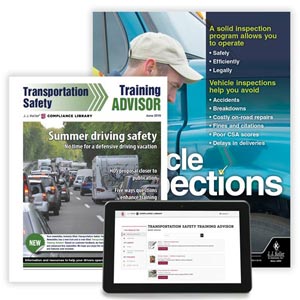 J. J. Keller's Transportation Safety Training Newsletter helps you build your drivers' skill level, reduce the chance of fines, and stay in compliance.
---
J. J. Keller's FREE Transportation SafetyClicks™ email newsletter brings quick-read safety and compliance news right to your email box.