Should your company consider job rotation?
Posted May 16, 2016
In the quest to develop and retain staff, finance executives recognize the value of allowing employees to move into roles in different areas of the company.
Chief financial officers (CFOs) in a Robert Half Management Resources survey said the benefits of job rotation include giving staff broader exposure to the business, gaining fresh perspectives, and enhancing professional development, succession planning, and recruiting and retention.
However, many organizations have yet to put role rotation into practice. The majority of respondents, 56 percent, said they do not promote these opportunities for their finance teams.
CFOs were asked, "What do you consider to be the greatest benefit of role rotation in companies?" Their responses*:
Offers staff exposure to different business areas — 23 percent
Gains fresh perspectives on existing roles — 23 percent
Accelerates professional development — 19 percent
Strengthens succession planning — 18 percent
Enhances recruiting and retention — 16 percent
Don't know — 2 percent
CFOs were also asked, "Do you promote role rotation for your financial teams?" Their responses:
Yes — 44 percent
No — 56 percent
"More companies can benefit from role rotation than are currently practicing it," said Tim Hird, executive director of Robert Half Management Resources. "This is an effective way to strengthen the organization by providing access to diverse viewpoints, building employees' skills, and grooming future leaders."
Companies that permit staff to move into different areas can be viewed more favorably as employers, Hird added: "Top performers want to work at firms that help them grow and advance their careers. Role rotation allows organizations to attract and motivate in-demand professionals looking for new challenges or to round out their skill sets in preparation for leadership positions."
Robert Half highlights who executives can talk to about whether role rotation is right for their team:
Employees: Do staff members want the ability to move among different business units? A "yes" means employers should look more closely at offering these opportunities — and find out which rotational roles interest workers.
Line managers: Solicit recommendations from your department's supervisors about potential job rotation candidates. Explain to managers the benefits of bringing in individuals from other parts of the business, and ask about the skills they would look for in these arrangements.
Consultants: Consulting and project professionals offer an external perspective and have observed what has worked at other firms. Tap their insights about how your organization could benefit from this type of program and best practices for implementation.
Network contacts: If your peers outside the company have overseen rotational opportunities, ask them about do's and don'ts, benefits, and drawbacks.
About the research
The survey was developed by Robert Half Management Resources and conducted by an independent research firm. It is based on telephone interviews with more than 2,200 CFOs from a stratified random sample of companies in more than 20 of the largest U.S. metropolitan areas.
---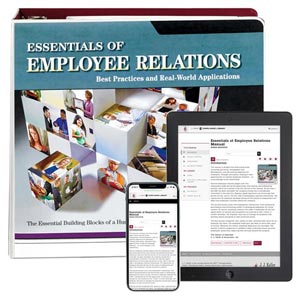 J. J. Keller's Essentials of Employee Relations Manual provides critical HR best practice tips and real-world applications in one convenient resource.
---
J. J. Keller's FREE HRClicks™ email newsletter brings quick-read human resources-related news right to your email inbox.