EPA proposes revisions to state regional haze plans
Posted May 5, 2016
On April 25, 2016, EPA proposed revisions to the Regional Haze Rule, which describes actions that states must take when submitting regional haze state implementation plans (SIPs) and progress reports.
The regional haze program helps to protect clear views in national parks, such as Grand Canyon National Park, and wilderness areas, such as the Okefenokee National Wildlife Refuge. Vistas in these areas are often obscured by regional haze caused by emissions from numerous sources located over a wide geographic area.
Action
States are required to submit periodic plans demonstrating how they have and will continue to make progress towards achieving their visibility improvement goals. The first state plans were due in 2007 and covered the 2008-2018 first planning period. This revised rule addresses requirements for the second planning period.
EPA is proposing revisions to various requirements of the Regional Haze Rule that will streamline, strengthen, and clarify aspects of the agency's regional haze program including:
Strengthen the federal land manager (FLM) consultation requirements to ensure that any issues that arise are raised early on in the planning process, even before SIPs or Progress Reports are submitted.
Extending the requirements so that now all states must address situations where a single source or small number of sources is affecting visibility in a national park or similar area (reasonably attributable visibility impairment, or RAVI).
Update the SIP submittal deadlines for the second planning period from July 31, 2018, to July 31, 2021, to ensure that they align with the steps states are already taking to address other Clean Air Act actions.

The end date for the second planning period would remain 2028. That is, the focus of state planning would be emission reduction measures that should be underway by 2028, as required by the current rule.
This would allow states to consider planning for other federal programs including the Mercury and Air Toxics Standards, the 2010 1-hour SO2 National Ambient Air Quality Standards (NAAQS), the 2012 annual fine particle (PM2.5) NAAQS, and the Clean Power Plan while conducting their regional haze planning.

Adjust interim progress report submission deadlines so that second and subsequent progress reports would be due by January 31, 2025, July 31, 2033, and every 10 years
Remove the requirement for progress reports to take the form of SIP revisions. States would be required to consult with Federal Land Managers and obtain public comment on their progress reports before submission to the EPA.

These progress reports would be reviewed by the EPA, but the EPA would not formally approve or disapprove them.

Additionally, EPA is proposing clarifications to reflect the Agency's long-standing interpretations of the 1999 Regional Haze Rule including:

Requirements that reasonable progress goals would be set based on the long-term strategy.
Obligations of states with mandatory Class I areas and other states contributing to impairment at those areas.
Obligations on states setting reasonable progress goals that provide for a slower rate of progress than that needed to attain natural conditions by 2064.
EPA will accept comment on the proposed rule for 60 days after it is published in the Federal Register.
---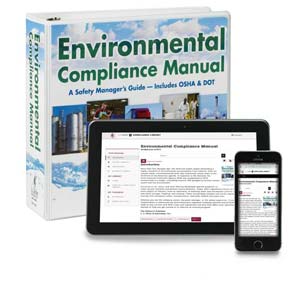 J. J. Keller's Environmental Compliance Manual is packed with easy-to-understand information on regulations, environmental issues and compliance.
---
J. J. Keller's FREE Workplace SafetyClicks™ email newsletter brings quick-read workplace safety and compliance news right to your email box.