EEOC publishes fact sheet on bathroom rights for transgender employees
Posted May 10, 2016
A new fact sheet on bathroom access rights for transgender employees was recently released by the Equal Employment Opportunity Commission (EEOC).
In the document, the agency applies Title VII of the Civil Rights Act, which prohibits discrimination based on sex (including gender identity and sexual orientation). The EEOC states that contrary state law is not a defense under Title VII.
The Fact Sheet: Bathroom Access Rights for Transgender Employees Under Title VII of the Civil Rights Act of 1964 uses court cases as illustrations. In a 2015 case, the EEOC held that:
Denying an employee equal access to a common restroom corresponding to the employee's gender identity is sex discrimination;
An employer cannot condition this right on the employee undergoing or providing proof of surgery or any other medical procedure; and
An employer cannot avoid the requirement to provide equal access to a common restroom by restricting a transgender employee to a single-user restroom instead (though the employer can make a single-user restroom available to all employees who might choose to use it).
In a 2016 court case, the United States Court of Appeals for the Fourth Circuit reached a similar conclusion by deferring to the Department of Education's position that the prohibition against sex discrimination under Title IX requires educational institutions to give transgender students restroom and locker access consistent with their gender identity.
The fact sheet also provides a definition of transgender. It says transgender refers to people whose gender identity and/or expression is different from the sex assigned to them at birth (e.g. the sex listed on an original birth certificate).
The term transgender woman typically is used to refer to someone who was assigned the male sex at birth but who identifies as a female. Likewise, the term transgender man typically is used to refer to someone who was assigned the female sex at birth but who identifies as male.
A person does not need to undergo any medical procedure to be considered a transgender man or a transgender woman.
Additionally, the fact sheet explains that gender-based stereotypes, perceptions, or comfort level must not interfere with the ability of any employee to work free from discrimination, including harassment. The EEOC observed in the 2015 court case mentioned above, "[S]upervisory or co-worker confusion or anxiety cannot justify discriminatory terms and conditions of employment. Title VII prohibits discrimination based on sex whether motivated by hostility, by a desire to protect people of a certain gender, by gender stereotypes, or by the desire to accommodate other people's prejudices or discomfort."
---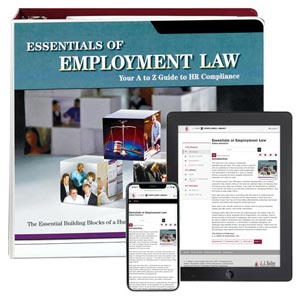 J. J. Keller's Essentials of Employment Law Manual covers more than 100 vital HR topics, including FMLA, ADA, HIPAA, FLSA, COBRA and more.
---
J. J. Keller's FREE HRClicks™ email newsletter brings quick-read human resources-related news right to your email inbox.