DOL makes $1M in grant funding available to study paid leave
Posted May 11, 2016
The U.S. Department of Labor (DOL) announced $1 million will be available to research and analyze how paid-leave programs can be developed and implemented across the country.
A number of state and local governments have adopted or are now considering paid-leave legislation. This grant program will enable similar actions in other jurisdictions. The agency's funding opportunity announcement outlines the grant priorities, evaluation factors, and application guidance for up to six competitive grants.
The department's Women's Bureau will administer the funding opportunity. This is the third year of funding, building upon the 2014 and 2015 grant programs, through which the bureau awarded over $2 million to support paid-leave studies.
"Today, women make up nearly half of the labor force and are increasingly the primary and co-breadwinners of their families," said Latifa Lyles, director of the Women's Bureau. "More than 30 million of America's working families have young children. Every year, roughly 40 million Americans provide unpaid care for elderly relatives and loved ones. These grants build on the work that many states are doing to implement 21st century workplace policies that meet the needs of working women and families."
The Family and Medical Leave Act (FMLA) guarantees unpaid, job-protected leave for workers to care for their newborn or newly adopted children, their family members with serious health conditions, and their own serious health conditions. According to the DOL, many workers — especially low-wage workers — cannot afford to take unpaid time off.
The agency says paid family and medical-leave programs can help workers with caregiving responsibilities and serious health needs remain in the workforce.
---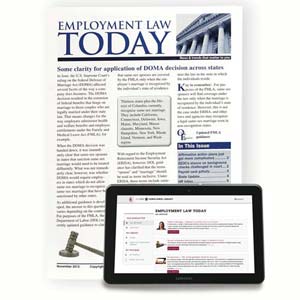 J. J. Keller's Employment Law Today newsletter explains why you need to care, what you need to do and how your business could be affected by HR industry news.
---
J. J. Keller's FREE HRClicks™ email newsletter brings quick-read human resources-related news right to your email inbox.