DOL alliance agreement aims to increase inclusion of workers with disabilities
Posted May 23, 2016
The Department of Labor (DOL) announced that its Office of Disability Employment Policy (ODEP) has signed an alliance agreement with the Association of University Centers on Disabilities (AUCD). The coalition intends to promote inclusive workplaces that embrace the skills and talents of workers with disabilities.
The new alliance will also provide AUCD members with information, technical assistance, and access to ODEP resources that will help them create workplaces that fully use the talents of employees with disabilities.
The AUCD is a non-profit membership organization that brings together university-based interdisciplinary programs and community resources to help achieve meaningful change for people with disabilities in all aspects of society, including the workplace.
The announcement of the alliance comes on the heels of the DOL declaring the theme of the 2016 National Disability Employment Awareness Month (NDEAM). The theme, "#InclusionWorks," seeks to inspire social media awareness of workers with disabilities.
Observed in October, NDEAM is a nationwide campaign celebrating the skills and talents workers with disabilities bring to our workplaces. Led nationally by ODEP, NDEAM's true spirit lies in the many grassroots observances held nationwide every year. Each spring, the theme for each year's celebration is announced to help organizations and groups plan their events.
ODEP created this year's theme with input from a wide variety of its partner organizations, including those representing employers, people with disabilities and their families, and federal, state, and local agencies. The hope is that the hashtag theme spurs both individuals and groups to post images and stimulate discussion on social media about the many ways "inclusion works."
NDEAM's history dates back to 1945, when Congress declared the first week in October each year as "National Employ the Physically Handicapped Week." In 1962, the word "physically" was dropped to acknowledge individuals with all types of disabilities. In 1988, the federal legislature expanded the week to a month and changed the name to NDEAM. When the department established ODEP in 2001, the agency assumed responsibility for NDEAM.
For more information about NDEAM, including specific ideas for how different types of organizations can participate, visit the ODEP website.
ODEP's mission is to develop and influence policies and practices to increase the number and quality of employment opportunities for people with disabilities. For more information, visit the ODEP website.
---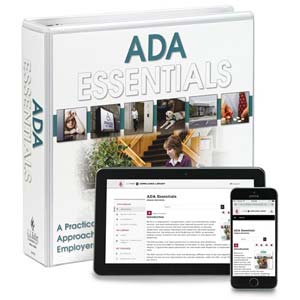 J. J. Keller's ADA Essentials Manual reviews Americans with Disabilities Act (ADA) guidelines and provides plain-English explanations to help you stay in compliance.
---
J. J. Keller's FREE HRClicks™ email newsletter brings quick-read human resources-related news right to your email inbox.