Are Your Drivers Prepared for Roadcheck?
Posted May 26, 2016
Every June, about 10,000 Commercial Vehicle Safety Alliance (CVSA)-certified local, state, provincial, and federal inspectors spend 72 hours conducting truck and bus inspections at over 1,500 locations throughout North America.
This year will be no exception, as Roadcheck will be held June 7-9.
Last year, over 69,000 truck and bus inspections were conducted. Just under one-quarter of all vehicles were placed out of service during this three-day event. Brake-related violations topped the list of vehicle out-of-service violations.
Just over three percent of all drivers inspected were placed out of service. Hours-of-service violations and false logs accounted for the majority of all driver out-of-service orders.
Preparing your drivers and vehicles can go a long way in ensuring a positive inspection outcome.
A vehicle placed out of service cannot be operated again until the default or defect discovered is corrected. A driver who is placed out of service cannot drive until the out-of-service violation has been corrected. This can lead to unwanted down time, a delayed shipment, and potentially lost revenue.
Also, all data gathered during all inspections, including those conducted during Roadcheck, have an impact on your Compliance, Safety, Accountability (CSA) carrier profile. Violations discovered by enforcement, including out-of-service orders, can have a negative impact on your CSA BASIC scores.
Make sure you stress the importance of inspections with your drivers and conduct training as necessary to make sure your drivers understand both the regulations as well as any policies your company may have related to this topic.
---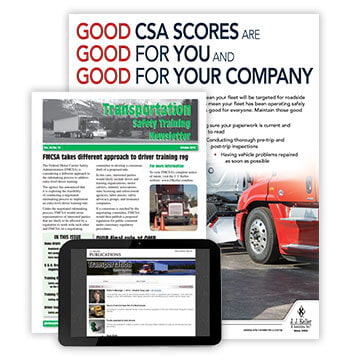 J. J. Keller's Transportation Safety Training Newsletter helps you build your drivers' skill level, reduce the chance of fines, and stay in compliance.
---
J. J. Keller's FREE Transportation SafetyClicks™ email newsletter brings quick-read safety and compliance news right to your email box.