American Pyrotechnics Association requests to update list of exemptions from 14-hour rule
Posted May 17, 2016
The American Pyrotechnics Association (APA), on behalf of its member-companies, has requested additions to and deletions from the list of motor carriers previously granted exemptions for the 2015 and 2016 Independence Day fireworks shows.
Fifty-one APA members currently hold such exemptions from the prohibition on driving commercial motor vehicles (CMVs) after the 14th hour after the driver comes on duty. APA requests discontinuance of the exemption for four carriers, and new exemptions for four carriers, with the total therefore remaining at 51.
The "Fixing America's Surface Transportation Act"' (FAST Act) extended the expiration date of hours-of-service (HOS) exemptions in effect on the date of enactment of the FAST Act to five years from the date of issuance. The exemption for 47 APA members approved in 2015 is therefore extended to July 8, 2020, for the 47 APA members approved in 2015 that wish to retain the exemption.
Finally, FMCSA seeks comment on the applications of four APA members not previously exempted from the 14-hour rule. Because the FAST Act also authorized new exemptions for a period of up to five years, the Agency proposes to grant these four motor carriers exemptions that would run through July 8, 2020, and terminate at the same time as the other 47 exemptions. The APA maintains that the terms and conditions of the limited exemption would ensure a level of safety equivalent to, or greater than, the level of safety achieved without the exemption.
Comments must be received on or before June 8, 2016. You may submit comments bearing the Federal Docket Management System (FDMS) Docket ID FMCSA-2007-28043 to the Federal eRulemaking Portal.
---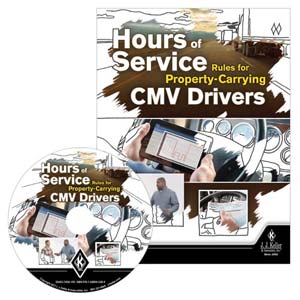 J. J. Keller's Hours of Service Rules for Property-Carrying CMV Drivers - DVD Training includes all current Hours of Service rules drivers must comply with.
---
J. J. Keller's FREE Transportation SafetyClicks™ email newsletter brings quick-read safety and compliance news right to your email box.