ATRI releases results of truck driver sleep apnea study
Posted May 31, 2016
The American Transportation Research Institute (ATRI) released the results of its sleep apnea survey, which highlights a number of issues related to truck driver screening and treatment of Obstructive Sleep Apnea (OSA).
With data from over 800 commercial drivers, ATRI's report is the first to quantify the costs and other impacts that truck drivers are experiencing as they address diagnosis and potential treatment regimen for OSA.
Findings from the study include:
Among drivers who had been referred to a sleep study, 53 percent paid some or all of the test costs, with an average of $1,220 in out-of-pocket expenses, representing just over 1.5 weeks of median driver pay at $805 per week.
Health insurance assistance with sleep study costs impacted driver out-of-pocket costs significantly — 61 percent of drivers with no health care coverage of their sleep study incurred out-of-pocket costs exceeding $1,000 compared to 32 percent of drivers whose health insurance did cover some portion of the sleep study with costs exceeding $1,000.
Among drivers reporting time away from work associated with sleep apnea screening, 41 percent indicated days off ranging from 1 – 30 days.
Use of a Continuous Positive Airway Pressure (CPAP) machine was the most commonly prescribed treatment regimen for drivers diagnosed with sleep apnea. This includes drivers in the ATRI sample diagnosed with mild sleep apnea, a condition that does not require treatment for medical certification.
The number of drivers who report not adhering to a prescribed OSA treatment was only 1.95 percent of the moderate/severe OSA diagnosed respondents.
Driver-perceived treatment efficacy varied by OSA severity. As OSA diagnosis severity increased, drivers experienced more positive CPAP treatment effects. For example, drivers diagnosed with severe OSA and being treated with CPAP reported increased amounts of sleep (84 percent), feeling better when they wake up (71 percent), and lower blood pressure (75 percent).
Conversely, among the 91 percent of drivers being treated with CPAP — despite a diagnosis of mild sleep apnea — less than a third (32 percent) experienced improved sleep as a result of CPAP treatment.
Among drivers who have had sleep studies and those who have not, there is concern about the use of neck circumference and Body Mass Index (BMI) as measures to refer drivers to sleep studies. Additionally, among drivers who have been tested, 64 percent believe that the DOT guidelines for referring drivers are too broad and that medical examiners do not follow the guidelines for referrals to sleep studies.
---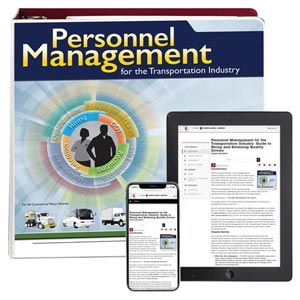 J. J. Keller's Personnel Management for the Transportation Industry provides transportation professionals with the information necessary for effective people/driver management.
---
J. J. Keller's FREE Transportation SafetyClicks™ email newsletter brings quick-read safety and compliance news right to your email box.