Changes may bring savings for household goods carriers
Posted April 29, 2022
Changes to the rules for household goods carriers in 49 CFR part 375 will streamline documentation and increase efficiency for interstate household goods motor carriers, improve consumer education and protection for individual shippers, and combat fraud.
Important changes in this final rule:
Allow for virtual surveys of household goods;
Require motor carriers to conduct surveys beyond a 50-mile radius;
Remove the requirement for an order for service;
Update the requirements in the bill of lading;
Require the bill of lading to be provided earlier in the moving process;
Replace the requirement for a freight bill with an invoice; and
Require all motor carriers that have a website to prominently display a link to FMCSA publication ESA 03005, Ready to Move?
Provisions incorporated from FMCSA guidance published in 2011 clarify that:
An individual shipper may never be required to sign a blank document, and
The shipper may be required to sign an incomplete document only when it is missing certain information that cannot be determined before the document must be signed.
An updated version of the Your Rights and Responsibilities When You Move booklet will now appear in Appendix A to part 375. Motor carriers will need to provide the booklet at the same time as the estimate instead of at the time of the order for service, as previously required.
The changes also require the preparation of a new binding or non-binding estimate when the individual shipper tenders additional items or requests additional services. Some provisions in this rule will result in costs for motor carriers, while other provisions will result in cost savings. The changes are expected to result in a net savings of $188,000 annually.
The motor carrier efficiencies discussed will not negatively impact shippers, as the services and information received do not change under the final rule, and shippers will incur no additional costs.
FMCSA expects that this rule will result in benefits related to consumer protection and potentially motor carrier fuel savings.
This final rule is effective June 27, 2022.
This article was written by Corrina Peterson of J. J. Keller & Associates, Inc.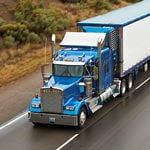 Looking for more on transportation safety?
Get the information and products you need to stay on top of industry changes and comply with regs.