Trump signs executive order to evaluate H-1B visa program
Posted April 20, 2017
President Donald Trump signed the executive order "Buy American and Hire American" on April 18. Part of the order directs federal agencies to evaluate the H-1B visa program that permits employers to hire nonimmigrant aliens as workers in specialty occupations.
The order has a "hire American agenda." Trump says he wants to ensure that the immigration system is not being abused and displacing American workers.
A stated goal of the order is to create higher wages and employment rates for workers in the United States. The order states that to promote the proper functioning of the H-1B visa program, the Secretary of State, the Attorney General, the Secretary of Labor, and the Secretary of Homeland Security shall, as soon as practicable, suggest reforms to help ensure that H-1B visas are awarded to the most-skilled or highest-paid petition beneficiaries.
Specifically, the executive order:
Calls on the executive branch to fully enforce the laws governing the entry of foreign workers into the U.S. economy, to promote rising wages and more employment.
Directs federal agencies to propose reforms to the H-1B program in order to shift the program back to its original intent and prevent the displacement of American workers.
---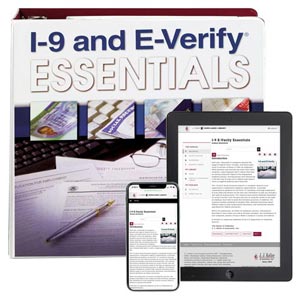 J. J. Keller's I-9 and E-Verify Essentials Manual helps you avoid I-9 errors and costly penalties related to the employment authorization process.
---
J. J. Keller's FREE HRClicks™ email newsletter brings quick-read human resources-related news right to your email inbox.