Georgia employers observe work zone awareness week
Posted April 4, 2017
April 3 – 7 is National Highway Work Zone Awareness Week, a time to ramp up safety awareness and training for the nation's road repair and construction workers. As part of the week's observations, the Federal Highway Administration, the state of Georgia, local government organizations, and employers are partnering with OSHA to hold safety stand-down events to train road workers on the dangers of distracted driving and flying debris.
The events will encourage employers to voluntarily stop work for one hour at Georgia construction sites to review best practices and discuss the hazards of objects and vehicles striking workers, the leading cause of roadside-related construction deaths.
According to the Georgia Struck-By Alliance, distracted driving results in nearly 3,000 deaths and 400,000 injuries every year at the national level. The Alliance suggests the following topics for discussion during the safety stand-down:
Flagging safety
Work zone safety
Georgia's Move Over Law
Manual on Uniform Traffic Control Devices
OSHA says that its Alliance Program allows the agency to work with groups committed to worker safety and health to prevent workplace fatalities, injuries, and illnesses. In addition, safety stand-down events, such as the one in Georgia, remind the construction industry and the public of the importance of safety in work zones.
---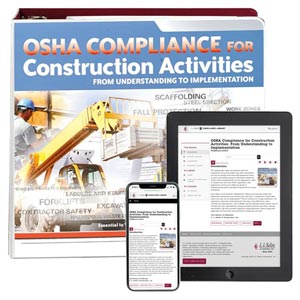 J. J. Keller's OSHA Compliance for Construction Activities Manual explains complex Part 1926 regs in easy-to-understand language.
---
J. J. Keller's FREE Workplace SafetyClicks™ email newsletter brings quick-read workplace safety and compliance news right to your email box.