Residential care company cited $443,460 for minimum wage, overtime violations
Posted April 6, 2016
California Labor Commissioner Julie A. Su has cited the operator of five adult care facilities in San Jose for multiple wage theft violations totaling $443,460. The company was ordered to pay $369,110 to 22 caregivers following an investigation that revealed the workers did not receive minimum wage or overtime as required by law.
The Labor Commissioner's Office opened its investigation after receiving a complaint last April. According to the office, a review of the company's records found that:
Workers were not paid overtime, despite working up to 12 hours a day.
Workers were required to cover night shifts at no pay.
Workers were paid less than San Jose's minimum wage of $10.30 per hour.
Workers' pay stubs were missing vital information such as hourly rate of pay, total regular hours worked, and number of overtime hours worked.
Workers who quit or were fired did not receive their final pay as required.
The company must pay the workers $192,050 in lost wages, $150,200 for liquidated damages, and $26,855 in interest and waiting time penalties. In addition, $74,355 in civil penalties is owed for failing to provide the workers itemized wage statements with their paychecks as well as minimum wage and overtime violations. The civil penalties collected will be transferred to the State's General Fund as required by law.
---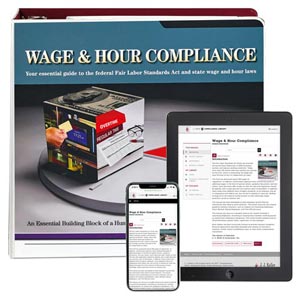 J. J. Keller's Wage and Hour Compliance with FLSA Manual provides critical info to help you comply with the Fair Labor Standards Act (FLSA) and state wage and hour laws.
---
J. J. Keller's FREE HRClicks™ email newsletter brings quick-read human resources-related news right to your email inbox.