OSHA issues temporary enforcement delay of PSM-covered chemical concentrations
Posted April 1, 2016
On June 5, 2015, OSHA issued a revised enforcement policy on the concentration of a chemical that must be present in a process for the purpose of determining whether the chemical is at or above the threshold quantity listed in Appendix A of the Process Safety Management (PSM) standard (29 C.F.R. §1910.119).
Through September 30, 2016, employers will not be cited for violations of the PSM standard based on the June 5, 2015, enforcement policy. However, PSM citations may still be issued based on the previous "commercial grade concentration" policy, under which OSHA considers the total weight of the chemical in the process at commercial grade concentrations and higher.
With respect to chemicals for which no concentration is specified in Appendix A, the new policy provides that in determining whether a process involves a chemical at or above the specified threshold quantities listed in Appendix A, OSHA will consider the total weight of the chemical in the process at a concentration of one percent or greater.
However, OSHA will not count the weight of such chemicals in any portion of the process in which the partial pressure of the chemical in the vapor space under handling or storage conditions is less than 10 millimeters of mercury.
---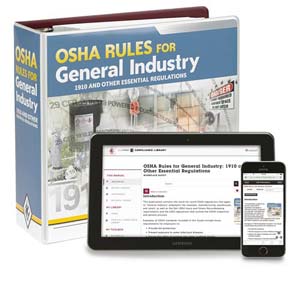 OSHA Rules for General Industry: 1910 and Other Essential Regulations puts OSHA's workplace safety regulations in a reader-friendly format.
---
J. J. Keller's FREE Workplace SafetyClicks™ email newsletter brings quick-read workplace safety and compliance news right to your email box.