New Driver Examination Forms must be used starting April 20
Posted April 18, 2016
The Federal Motor Carrier Safety Administration (FMCSA) reminds Medical Examiners (MEs) and commercial motor vehicle (CMV) drivers that, as of April 20, 2016, certified MEs performing physical examinations of CMV drivers must use the revised versions of the Medical Examination Report (MER) Form (MCSA–5875) and the Medical Examiner's Certificate (MEC) Form (MCSA–5876). Exams performed prior to April 20, 2016, are still valid, and drivers do not have to become recertified. In addition, the information on prior exams does not have to be transferred to the new formats.
Background
In April 2015, FMCSA published the Medical Examiner's Certification Integration final rule, designed to facilitate the electronic transmission of MEC information from FMCSA's National Registry to the State Driver's Licensing Agencies, and required the use of revised MER and MEC forms. Note that electronic submission of the MCSA-5875 to FMCSA does not begin until June 22, 2018.
In December 2015, FMCSA announced a 120-day grace period — from December 22, 2015 through April 20, 2016 — during which MEs may use either the old "substantially in accordance with" versions or the newly revised versions of the MER Form and MEC Form.
FMCSA provided a grace period to ensure that MEs had sufficient time to become familiar with the new forms and to program electronic medical records systems.
---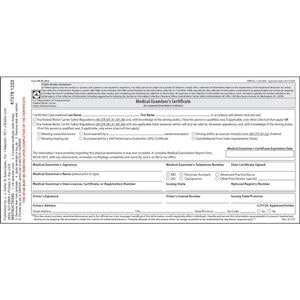 J. J. Keller's Medical Examination Certificate - Laminated - 2015 Version complies with Medical Examiner's Certification Integration Final Rule Beginning December 22, 2015.
---
J. J. Keller's FREE Transportation SafetyClicks™ email newsletter brings quick-read safety and compliance news right to your email box.