Napping is not notice of the need for FMLA leave
Posted April 1, 2016
Sally, a nurse who was newly employed at a health care facility, would take off of work from time to time to deal with her migraines. At one point, the company's human resources professional met with Sally, and asked if there were accommodations that would help. Sally indicated that accommodations were not applicable, but rather, she needed intermittent time off under the Family and Medical Leave Act (FMLA) and would wait until she became eligible for FMLA leave. Sally was instructed to let her manager or one of her colleagues know if she needed to remove herself from her job for a period of time.
As soon as she became eligible, Sally began taking FMLA leave.
One day, Sally reported to work and after a few hours began experiencing migraine-related symptoms, such as sensitivity to bright lights. Instead of watching a particular patient's monitor under the bright lights, Sally decided to watch it in a dimmed, unused patient room across the hall from the patient. She remained in that room for about a half-hour. Sally did not believe there was a policy against sitting in a room near the nurses' desk, and she believed it was an accommodation that she was allowed to make for herself.
Later that shift, Sally took prescribed migraine medications. While talking with a patient, she became flushed and dizzy. She left the patient's room, went to the dimmed room across the hall, sat on the bed, closed her eyes, and fell asleep.
About 25 minutes later, a coworker found Sally sleeping on the bed. Upon being shaken, Sally responded with "I must have fallen asleep." Sally was escorted to the emergency room, where she received treatment for her migraine.
Sally called in sick for the next handful of days, during which she did not read her emails or use her home phone. During this period, the employer was trying to contact Sally to set up a meeting regarding her conduct. The meeting was finally arranged, and Sally was informed that sleeping while on duty was considered a major infraction; therefore, she was terminated.
Sally sued, arguing that her supervisor knew of her condition, that it was acting up the night in question, that it caused Sally to lose consciousness, and it was the basis of her termination. She also argued that the employer did not conduct an adequate investigation in the days before the termination meeting to inquire whether Sally intentionally fell asleep while on duty.
The employer argued that Sally was terminated for abandoning her patient and was found sleeping on the job — a terminable policy violation. Sally had intentionally removed herself from her patient's room, did not notify her supervisor of this, and fell asleep across the hall. This, the employer asserted, did not provide notice of Sally's intention to take FMLA leave.
The court indicated that the FMLA did not require the employer to assume that the illness that caused Sally to leave her patient stemmed from an FMLA-qualifying medical condition. Sally had told no one that she experienced a sudden, incapacitating migraine. Even after the incident, she did not state such an argument. Therefore, the court agreed with the employer.
Lasher v. Medina Hospital, et al., U.S. District Court for the Northern District of Ohio, Eastern Division, No. 1:15CV00005, 2/5/16
Please note that in a previous case, an employee's sleeping on the job was considered to be notice of the need for leave. The facts, however, were different from this case. In the earlier case, the employee had a mental condition, which prompted erratic sleep habits, and posed a barrier to the employee reporting his issues. In today's story, the employee's condition did not pose a barrier from following the protocol.
This article was written by Darlene Clabault of J. J. Keller & Associates, Inc.
---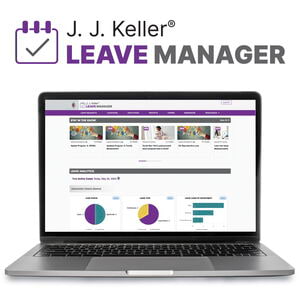 J. J. Keller® FMLA Manager™ Service makes leave tracking easier while complying with the latest federal & state regulations.
---
J. J. Keller's FREE HRClicks™ email newsletter brings quick-read human resources-related news right to your email inbox.