Majority of workers do talk politics at work, survey finds
Posted April 13, 2016
With the presidential election still seven months away, the current political landscape has no doubt given cause for workers across the country to discuss and debate the presidential candidates' positions or antics. In fact, a survey released from outplacement and coaching firm Challenger, Gray & Christmas, found 94 percent of respondents have witnessed political discussions in the workplace, with 18.2 percent reporting that those discussions happen often.
The survey of 150 human resources executives in March also found that 91 percent participate in political discussions themselves, although 45 percent report those discussions rarely occur.
The survey also found that workplace discussions on politics remain civil, with 63.6 percent of human resource executives describing the interactions as mostly congenial and respectful. The remaining 36.4 percent define the political discussions they have witnessed as passionate, but still respectful. Zero human resources executives reported heated or disrespectful workplace debates.
Companies are also entering the fray of political positions, a phenomenon that found the spotlight during the 2010 midterm election. Almost 25 percent of respondents reported their companies have sent information to employees on certain candidates and how their policy measures may impact the company. Six percent of companies openly contribute to political campaigns, and another six percent privately support candidates. In 12 percent of cases, while the company does not support campaigns publicly, the CEO or executive team does.
With all this potentially confrontational discourse occurring at the office, only 3 percent of companies have formal policies for discussing politics at work, and another 13 percent have discussed the possibility of implementing guidelines.
Challenger, Gray & Christmas issued the following suggestions for keeping political discussions from negatively affecting one's career:
Keep it civil: Do not let friendly banter deteriorate into a name-calling shouting match.
Know your colleague: Career-wise, it is probably safer to converse with those who share your views. If unsure about a colleague's views, then avoid political conversations or carefully probe for his or her views.
Do not campaign: Give-and-take conversations are acceptable, but campaigning can be off-putting. If someone expresses discomfort with political discussions, respect his or her wishes.
If you must talk politics, stick to politics: While politics are increasingly entwined with religion, consider that aspect of the debate off limits and avoid personal attacks.
Do not evaluate based on politics: You may not agree with a coworker's political views, but, if you are a supervisor, do not let that influence your assessment of that person's work and/or value to the company.
---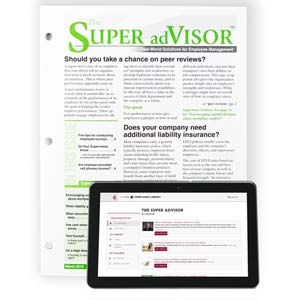 The SUPER adVISOR™ newsletter contains four pages dedicated to the HR manager and a corresponding four-page pullout dedicated to the needs of supervisors.
---
J. J. Keller's FREE HRClicks™ email newsletter brings quick-read human resources-related news right to your email inbox.