HR professionals can be held personally liable for FMLA missteps
Posted April 15, 2016
A recent court case illustrated the potential repercussions human resource (HR) professionals could face if their actions could be construed as interfering with an employee's Family and Medical Leave Act (FMLA) rights, or retaliation against an employee for exercising those rights. While employee absences can pose a challenge for FMLA administrators, stubbornness could prove costly.
Case in point
When an employee, Michelle, learned that her son was hospitalized with previously undiagnosed diabetes, she requested FMLA leave and asked for any necessary paperwork. Michelle returned to work about two weeks later, and subsequently provided the requested certification. The same day she provided the certification, her other son broke his leg in a sporting accident and Michelle again asked for leave, indicating that she expected to return to work in about a week and a half.
When the return-to-work date arrived, she was asked for an update, and Michelle indicated that she would need to work a reduced, three-day week for about another month. She also asked if she needed to provide any further documentation, but did not get a clear answer.
Michelle made numerous efforts to find out when she could return to work, but got no response for at least a week. Sarah, the HR director for the company, told Michelle that her FMLA paperwork did not justify her absences and that updated paperwork was needed, but Sarah never indicated that Michelle needed to provide a certification. Michelle's questions about what specific paperwork went unanswered. Sarah did, however, indicate that the paperwork was to be provided within seven days.
Emails between Michelle and Sarah continued, with Michelle asking for more specifics on the paperwork. Instead of clarifying, Sarah provided Michelle with an informational brochure from the Department of Labor.
Communications continued to breakdown, and Sarah insisted on a meeting with Michelle, but did not provide a date or time, and instead demanded that Michelle do so. Michelle repeatedly indicated that she was available whenever, and even forwarded an updated certification, but Sarah did not acknowledge receipt of it or otherwise respond to the email. From there, communication was done between Michelle's and Sarah's counsel. In one letter from the company counsel, Michelle was instructed to provide a certification within four days. Because Michelle's counsel was unavailable for a few days and did not receive the letter in time, however, Michelle missed the four-day deadline and was terminated.
Michelle sued the company and Sarah, arguing that her FMLA rights had been interfered with and she was retaliated against for exercising those rights. In court, the employer argued that Michelle was terminated because she abandoned her job. She failed to contact her supervisor to arrange a return to work date, and she failed to provide the certification supporting her leave.
The court sided with Michelle, citing evidence that she made multiple attempts to find out what "paperwork" was required, but was not given a clear response; that she sought and was denied leave. Sarah's vague request for "paperwork" was not enough to require Michelle to provide a certification and, therefore, Michelle could not be held to the requirement.
As such, the court found that Sarah, who possessed sufficient control over the employee's employment, could be held personally liable for her actions in regard to Michelle's FMLA leave.
Graziadio v. Culinary Institute of America, et al., Second Circuit Court of Appeals, No. 15-888-cv, March 17, 2016.
This article was written by Darlene Clabault of J. J. Keller & Associates, Inc.
---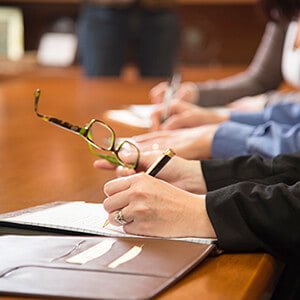 J. J. Keller's Family and Medical Leave Act (FMLA) Consulting Services can help your company ensure compliance with FMLA requirements and minimize the law's burden to your organization.
---
J. J. Keller's FREE HRClicks™ email newsletter brings quick-read human resources-related news right to your email inbox.