Employee job satisfaction highest in 10 years, survey shows
Posted April 20, 2016
More U.S. workers are satisfied with their jobs than at any time since 2005, the Society for Human Resource Management (SHRM) announced today.
In the annual Employee Job Satisfaction and Engagement Survey conducted in late 2015, SHRM found that 88 percent of employees said they were satisfied overall with their job (37 percent reported being very satisfied, and 51 percent somewhat satisfied).
"What a difference a few years — and an improved economy — make in how workers view their jobs," said Evren Esen, director of SHRM's survey programs. She noted that the percentage of satisfied employees has been trending up since 2013.
"As the economy stabilized after the recession, employers began to focus again on factors that impact retention and employees found flexibility to seek out more compatible positions if they were ready to move on to new challenges," Esen said. "The result: workers are happy with their jobs."
For the second year, the most important contributor to employee job satisfaction was "respectful treatment of all employees at all levels" (cited by 67 percent of respondents). Said Esen, "Employees consider culture and connection to be of utmost importance. Feeling appreciated for their time and efforts creates a bond between employees, management, and their organization."
Other top contributors were: compensation/pay, overall benefits, job security, opportunities to use skills and abilities, and trust between employees and senior management.
Compensation has increased in importance. Sixty-three percent of respondents cited it as a contributor to satisfaction, the highest level since 2006.
Workers' priorities and levels of satisfaction were similar across generations. Eighty-six percent of Millennials indicated being satisfied, and similar percentages were reported for Generation X (88 percent) and Baby Boomers (90 percent).
In an accompanying analysis, "Millennials: Misunderstood in the Workplace?," SHRM researcher Christina Lee wrote, "Stop the stereotypes. … Although Millennials may have slightly different mindsets, on the whole, they tend to place significance on several of the same aspects of job satisfaction that Generation Xers and Baby Boomers do."
Her advice to employers: "When designing training and development programs or benefits strategies, keep in mind other elements such as career level and life stage — not just age — to build an approach that is appropriate for various groups of employees."
Released at SHRM's 2016 Talent Management Conference & Exposition in Orlando, the Employee Job Satisfaction and Engagement Survey also examined the connection and commitment employees have to their work and organization. The survey showed that employees were moderately engaged with their jobs, similar to previous years, although workers in lower-level jobs appeared to be less engaged.
Among engagement findings:
77 percent of respondents were satisfied with their relationships with co-workers and opportunities to use skills and abilities.
89 percent were confident they could meet their work goals.
70 percent felt encouraged to take action when they saw a problem or opportunity in their organization.
Methodology: The survey polled 600 randomly selected full-time and part-time workers in November and December 2015. It has a margin of error of plus or minus about 2 percent.
---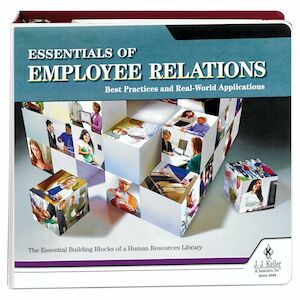 J. J. Keller's Essentials of Employee Relations Manual critical HR best practice tips and real-world applications in one convenient resource.
---
J. J. Keller's FREE HRClicks™ email newsletter brings quick-read human resources-related news right to your email inbox.