EEOC sues bearing manufacturer for retaliation under the equal pay act
Posted April 5, 2016
A Missouri bearing manufacturer violated federal law by suing a former employee in retaliation for her complaint of pay discrimination, the U.S. Equal Employment Opportunity Commission (EEOC) charged in a lawsuit.
According to EEOC's lawsuit, a project manager complained to EEOC that the company violated the Equal Pay Act of 1963 (EPA) by paying female employees less than male employees for performing equal work.
EEOC investigated and issued no finding on the pay discrimination charge one way or the other. However, within weeks of EEOC completing its investigation and issuing the employee the statutorily required right-to-sue notice, the company sued her in state court, contending that her EEOC complaint was malicious prosecution.
EEOC claims that the company's retaliatory lawsuit violates the EPA which, in addition to prohibiting unequal pay, prohibits discrimination against any employee or former employee because they file a complaint or institute a proceeding under the EPA.
EEOC seeks monetary relief, an order directing the company to dismiss the malicious prosecution lawsuit, and an order requiring the company to implement new policies, practices, and training to prevent discrimination and retaliation.
---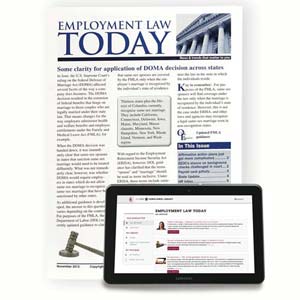 J. J. Keller's Employment Law Today newsletter explains why you need to care, what you need to do and how your business could be affected by HR industry news.
---
J. J. Keller's FREE HRClicks™ email newsletter brings quick-read human resources-related news right to your email inbox.