Distracted driving awareness month begins
Posted April 8, 2016
On April 5, 2016, the National Highway Traffic Safety Administration (NHTSA), the National Transportation Safety Board (NTSB), California Highway Patrol (CHP), the California Office of Traffic Safety (OTS), and Impact Teen Drivers (ITD) joined together to kick off Distracted Driving Awareness Month.
Federal, state, and local law enforcement will work to raise awareness about the dangers of distracted driving to change behavior and save lives. The month kicks off with a national advertising campaign and law enforcement crackdown called "U Drive. U Text. U Pay" that runs from April 8 to April 13. The campaign is aimed at combatting distracted driving nationwide and the effort includes television, radio, and digital advertisements. Drivers caught texting or using their mobile devices when behind the wheel will be issued tickets in states with distracted driving bans.
To support these efforts, OTS will also conduct a social media campaign urging drivers to "Silence the Distraction." According to OTS data, California had 84 fatal distracted driving crashes in 2013, 85 in 2014, and 67 in 2015. The number of injury crashes for the same three-year period shows an increase: 10,078 in 2013; 10,463 in 2014; and 11,023 in 2015.
According to the Department of Transportation (DOT), at any given moment during daylight hours, more than 660,000 vehicles are being driven by someone using a hand-held cell phone. In 2013, 3,154 people were killed, and an additional 424,000 were injured in crashes involving distracted drivers in all 50 states, the District of Columbia and Puerto Rico.
---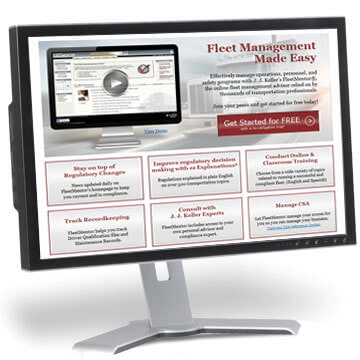 J. J. Keller® FleetMentor® is the online toolbox and advisor that will help you cover all areas of the CSA BASICs.
---
J. J. Keller's FREE Transportation SafetyClicks™ email newsletter brings quick-read safety and compliance news right to your email box.