DOL finalizes rule to address conflicts of interest in retirement advice
Posted April 11, 2016
The Department of Labor (DOL) has issued an exemption from certain prohibited transaction provisions of the Employee Retirement Income Security Act of 1974 (ERISA) and the Internal Revenue Code (the Code). The provisions at issue generally prohibit fiduciaries, with respect to employee benefit plans and individual retirement accounts (IRAs), from engaging in self-dealing and receiving compensation from third parties in connection with transactions involving the plans and IRAs.
The exemption allows firms to continue to use certain compensation arrangements that might otherwise be forbidden so long as they, among other things, commit to putting their client's best interest first, adopt anti-conflict policies and procedures (including avoiding certain incentive practices), and disclose any conflicts of interest that could affect their best judgment as a fiduciary rendering advice. Common forms of compensation, such as commissions, revenue sharing and 12b-1 fees, are permitted under this exemption, whether paid by the client or a third party such as a mutual fund, provided the conditions of the exemption are satisfied. This exemption is available to advisors that advise IRA savers, individual plan participants, and small plans.
In addition, the final rule revises many existing exemptions. It also includes a new exemption for principal transactions, which allows advisors to recommend investments, such as certain debt securities, and sell them to the customer directly from the advisor's own inventory, or purchase investment property from the customer, as long as the advisor adheres to the exemption's consumer-protective conditions.
The DOL has adopted a "phased" implementation approach so that firms will have more time to come into full compliance. In particular, the full disclosure provisions, the policies and procedures requirements, and the contract requirement do not go into full effect until January 1, 2018.
---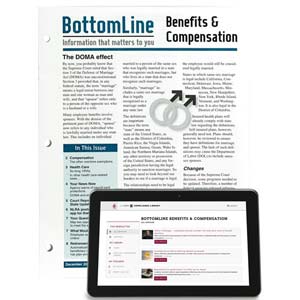 J. J. Keller's BottomLine Benefits & Compensation is an 8-page, monthly newsletter that addresses key issues relating to benefits and compensation programs.
---
J. J. Keller's FREE HRClicks™ email newsletter brings quick-read human resources-related news right to your email inbox.